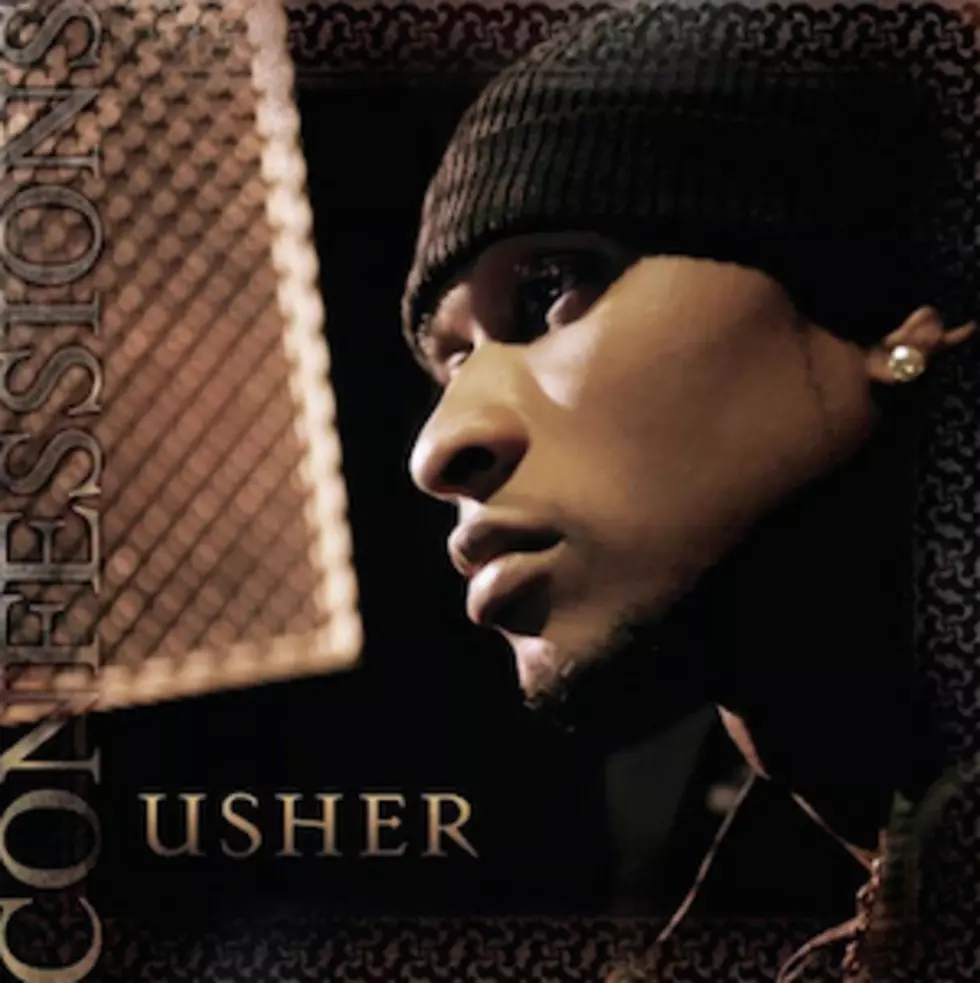 Does Usher's 'Confessions' Stand the Test of Time?
Arista Records
For every decade, there's an album released by a marquee R&B artist that speaks for the generation. In the 1980's it was Michael Jackson's 'Thriller.' In the '90s, it was MJ's little sister Janet Jackson's overt album, 'Janet.' For the new millennial generation of today, it's clearly Beyonce's self-titled album. But in between Queen Bey and Ms. Jackson, there's an album by one of the greatest musical talents in R&B that's ever surfaced the Earth: 'Confessions' by Usher.

Teaming up with the dream team of R&B producers including Jermaine Dupri, Jimmy Jam & Terry Lewis, Rich Harrison, Dre & Vidal and Lil Jon, Usher delivered a masterpiece of cohesion that debuted at No. 1 on the Billboard 200 album chart, selling 1.1 million copies in its first week of release. The collection also won the singer three Grammy awards including Best Contemporary R&B Album, Best R&B performance By Duo or Group with Vocal for 'My Boo' and Best Rap/Sung Collaboration for 'Yeah' with Lil Jon.
Still high off the success of another commercial smash, '8701,' 'Confessions' not only told the story a man with faults, it was also the album that alluded to the backstory of the demise of his romantic relationship with TLC's Chilli. Though Chilli dismissed those allegations, Usher never kiss and told on his fourth album. Rather, it was confidante and producer Dupri who had some things to get off his chest.
Still, the 17-track LP was a major success, selling 20 million copies worldwide. Since March 23, 2014 marks the 10th anniversary of 'Confessions,' The Boombox takes a look back at the album that granted Usher further along into mega-superstar status.
On a soothing frail guitar sound toted with echoes and synths, Usher professes himself as not just an R&B star, but a man with faults, mistakes and simply a man on this intro. Though the track runs for 47 seconds and Usher wasn't even close to knee-deep in his vocal story, you can already hear the painful, yet beautiful storytelling that's to emerge.
'Yeah' Feat. Lil Jon & Ludacris
According to reports, there was a point when it was a debate on whether 'Yeah' should be released as the lead single. While some members of Usher's team favored 'Burn,' the fans gravitated to the crunk record featuring Ludacris. Looking back a decade later, we're glad Usher and team went with this choice. How could you deny the lyric yelped by the song's co-star Lil Jon: "Bend over to the front and touch ya toes!"
'Throwback' Feat. Jadakiss
Partnering with hitmaker Just Blaze and sampling Dionne Warwick's 'You're Gonna Need Me,' the rough-edged mid-tempo song 'Throwback' successfully located a balance between Usher's traditional R&B vocal prowess and Blaze's hard-edged gritty production. Featuring Jadakiss,'Throwback' told the story of one not realizing a good thing until it's gone. Luckily for 'Confessions' lovers, we can always "rewind the time, and get inside Usher's mind, take back all the words" as a great R&B record.
A part one of Jermaine Dupri's turbulent relationship stories, 'Confessions Part I' is the milder version of 'Part II.' Though Part I was considered the most underwhelming track of the whole album, Usher still maintains his signature R&B sound on the mid-tempo track. On the song, the singer details a whirling narrative of a woman's worst nightmare -- a serial cheating boyfriend. "Every time I was in L.A., I was with my ex-girlfriend / Every time you called I told you, 'Baby I'm working / (No!) I was out doing my dirt / (Oh!) Wasn't thinkin' 'bout you gettin' hurt / (I) was hand in hand in the Beverly Center like man / Not givin' a damn who sees me," he sings.
Though Jermaine Dupri used Usher as vessel to explain his battles with infidelity, Mr. Raymond struck a believable image of the good, clean guy next-door formerly known as TLC's Chili's beau turned bad-boy on 'Confessions Part II.' Successfully drowning out producer-collaborator Dupri on 'Confessions,' the song became one of Usher's biggest hits, and also segued into his own not-so-polished life.
The breakup song of 2004, 'Burn' chronicled the turbulent cycle of woes in Usher's relationships with his ladylove while still harnessing a charisma that maintained a spot on the Billboard Hot 100 chart for eight weeks. Teaming up with Dupri and Bryan Michael Cox, Usher started his therapeutic session in the booth and "letting it all hang out." The result: the track ending up being so good Cartoon Network series 'The Boondocks' made a parody about it.
Layered with synths, a catchy hook and revealing the human side of Mr. Raymond, 'Caught Up,' the fifth single from 'Confessions,' was Usher's unveiling that he wasn't the only player in the game of love. The crooner found some chicks so alluring that he would look for them in the "daytime with a flashlight."
Whether or not you think Usher was singing to you or one of his girlfriends, you can't help but fall for hiss looming vocals on 'Superstar' (Interlude). Though the interlude was just a minute, the song had plenty of hands in the pot as far as production including Aaron Spears, Arthur Strong, Juan Johnny Najera and Valdez Brantley.
A beautiful metaphor of a committed relationship, 'Superstar' is a classic R&B record sprinkled with the sample of legendary R&B singer Willie Hutch's 'Mack Stroll/The Getaway (Chase Scene).' The Dre & Vidal-produced track was not just a soulful sampling quipped with the oceanic, wavering signature falsetto of Usher, but a beautiful story of what the kind of commitment true love and infatuation pulls.
A sticky confessional with an incredible catchy hook, Usher reverts back to the big picture story of his album with 'Truth Hurts.' But this time he turned the tables, with an unabashed account of his awareness of what his partner was doing behind his back. In the end, he confesses to his own thoughts and discrepancies. "Now wait a minute / Oh, listen babe (truth hurts) / The truth is I've got the secret / I've been keeping from you baby / 'Cause I know that you / Will tear up the place / Punch me in my face / Pull the hot grits out / I think you need to sit down oh / I been blaming you / When I the one doing wrong / I'm gonna go on," he sings.
Though Usher was still in his late 20s when 'Confessions' released (27 years to be exact), he definitely took note of the Urban Adult Contemporary audience with the feel-good melody 'Simple Things.' Not just a beautiful life lesson, the ballad served as a two-step anthem as well for all ages from the dance floor to a cubicle in a workstation.
Depending on your preference, Usher's 'Bad Girl' has all the workings of great song. Produced by Jimmy Jam and Terry Lewis, the heavy guitar and booming beat paired with Usher's boastful vocal plea for a girl that's on his level speaks to every girl that's got that inner glow or inner Beyonce in them.
'That's What It's Made For'
Perhaps it was the savory flute, ubiquitous horns or Usher's sprinkled scatting in between bridges and hooks that make 'That's What It's Made For' one of the best tracks on 'Confessions.' Produced by Jimmy Jam and Terry Lewis again, the song was not only the blatant sex jam for couples, it also vocalized practicing with precaution with the lyrics: "Go on and hit it / That's what it's made for / She said, 'You got somethin on right?' / That's what it's made for / Boo why you trip pin' / You know I got it / That's what it's made for."
Penned by a then budding singer-songwriter Robin Thicke, Usher solidified himself as the guy that's got the falsetto for days on the shimmering record 'Can U Handle It?' With Thicke's songwriting skills, Usher was able to give listeners a glimpse into the anticipation of what a night with him would be like. "Can you handle it? / Can I go there baby with you?" he asks his ladylove on the track. "We gonna set it off / We gonna tear it up / Baby can you handle? / I can handle it / I can go there baby with you."
Though the fervent call-to-action for romance was very apparent in Usher's records such as 'That's What It's Made For' and the title track, no other song on 'Confessions' was more in-your-face and blatant than 'Do It to Me.' The last of Jermaine Dupri's production on the tracklist, the song is pure hedonism. If you listen closely, you can feel the intensity of Usher's smoldering come-hither vocals.
A suave mix of jazz and contemporary R&B, 'Take Your Hand' is a well-polished song that not only has a booming bass, it also features a very strong vocal power from Usher. The track also carried that James Brown swivel dance appeal with its innate ability to make you snap your fingers and glide your feet on the dance floor.
Let's give credit to Usher for knowing how to set the mood right for the bedroom but still be aware to provide a banger for the bass system of any car. Much like 'Yeah,' 'Follow Me' has the perfect elements of a story including the highs and lows and everything in between.
'My Boo' Feat. Alicia Keys
Though 'My Boo' was a part of the special edition of 'Confessions,' the song stayed atop the Billboard charts for eight straight weeks. With Alicia Keys and Usher joining forces for this duet, the pair made 'My Boo' the 'You're All I Need To Get By' anthem of the 21st century and made them the new Marvin Gaye and Tammi Terrell.
Sure, one would consider 'Red Light' to be a "filler" track, but the mid-tempo, mildly crunk Lil Jon assist gives insight into one of the many thrilling, one-night sexual encounters-turned-serious stories on the album. "It was supposed to be just a one night / In and out and I'm out the door / So why am I sitting here at the red light / Drivin' around looking out for her," Usher sings on the chorus.
If there's any record that gives a glimpse into the foreplay of Usher Raymond, 'Seduction' is it. On the Jimmy Jam and Terry Lewis-produced track, the R&B loverboy paints a vivid picture of a woman lured by his seductive power. "So do I, one: Put it on her / Work my way to the front / Do I, two: Do my part and sure don't try to pull no stunts / Or maybe three: Chase the cat because she's sending me on the hunt," he sings. "Naw, bump that / I aint no punk / I'm gonna give shorty what she want!"
'Confessions Part II (Remix)'
Along with Twista, Dupri, Kanye West and Shyne, Usher created another remix of his title track -- which would essentially become part 'Confessions Part III' -- but was titled the remix. On the 'Billie Jean'-inspired song, Usher features each guest rapper, respectively. The crooner details their troubles on wax, opening the door for rappers to display their emotional side giving way to future artists who would do this throughout their careers (i.e., Drake).
So does Usher's 'Confessions' stand the test of time? Yes, of course.
'Confessions' is still a great album. It's a moving story of an R&B superstar unveiling the tussles of balancing fame and private life. It's a book of songs equipped with velvety smooth, climactic vocals and identical pivotal moments in pleasure and quality. Production-wise, the music ranges from late '70s Frankie Beverly-era to the thunderous, explosive Dr. Dre-sounding beats.
Usher's maturity and growth as an artist catapulted with 'Confessions,' which was not present on his prior albums speaking on mature subject matter. The album eclipsed '8701' because of his innate ability to make you feel as if you were sitting on a stoop learning the values of life.
On songs like 'Confessions,' we hear Usher's sinful transgressions with multiple women and on 'Bad Girl,' he holds all the info of the chicks he's encountered in a swank club. Ultimately, you can feel the singer's guilt on both sides of the spectrum but you were mad at him for doing so wrong (or at least Dupri in the matter of their collaborative song 'Confessions').
Therefore, we must confess that not only has Usher made an album that stands the test of time, he's made a work that truly stands out in the genre of R&B.