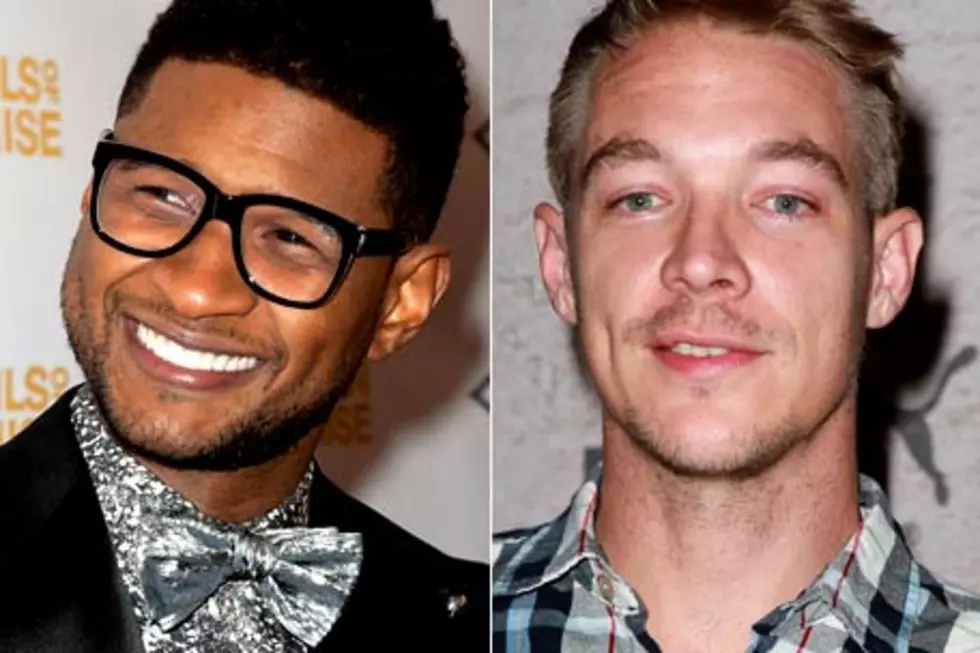 Usher 'Climax': Diplo Produces 'Baby-Making' Song — Listen
Getty Images (2)
Usher has a knack for making fans "wanna leave the one their with" for his falsetto pipes and studly moves. 'Climax,' his latest track produced by Diplo and written by Redd Stylez and Ariel Rechtshaid, is no exception. The R&B crooner released the track via Twitter on Valentine's Day (Feb. 14) for all the ladies to drool over.
"Here is my Valentine to my fans," Usher tweeted, with a link to his hot new track. His voice soars over heavy Diplo-produced synths, singing sweetly, "Where are you now, when I need you around." It's Usher's first release since 'Without You,' off of David Guetta's 'Nothing But the Beat' and the timing couldn't be better for Diplo, riding the wave of his 2012 Grammy nod for Best Rap Song with Chris Brown's 'Look at Me Now.'
"Seriously the best record ive been part of. Really proud of it [sic]," Diplo tweeted. "Im pretty sure in 9 months there are gonna be a lot of new babies that this song is responsible for."
Usher knows the power he has over women adding, "Yeah...I hope they don't name the babies Usher too...I don't need them problems...lol."
Check out Usher and Diplo's 'Climax' below!
Listen to Usher's 'Climax'
Watch 'Usher Gets Attacked For Parking in Handicap Parking Spot'
#fivemin-widget-blogsmith-image-582180{display:none;} .cke_show_borders #fivemin-widget-blogsmith-image-582180, #postcontentcontainer #fivemin-widget-blogsmith-image-582180{width:476px;height:357px;display:block;}

Follow @theboombox on Twitter | Like Us on Facebook | Sign Up for Newsletter