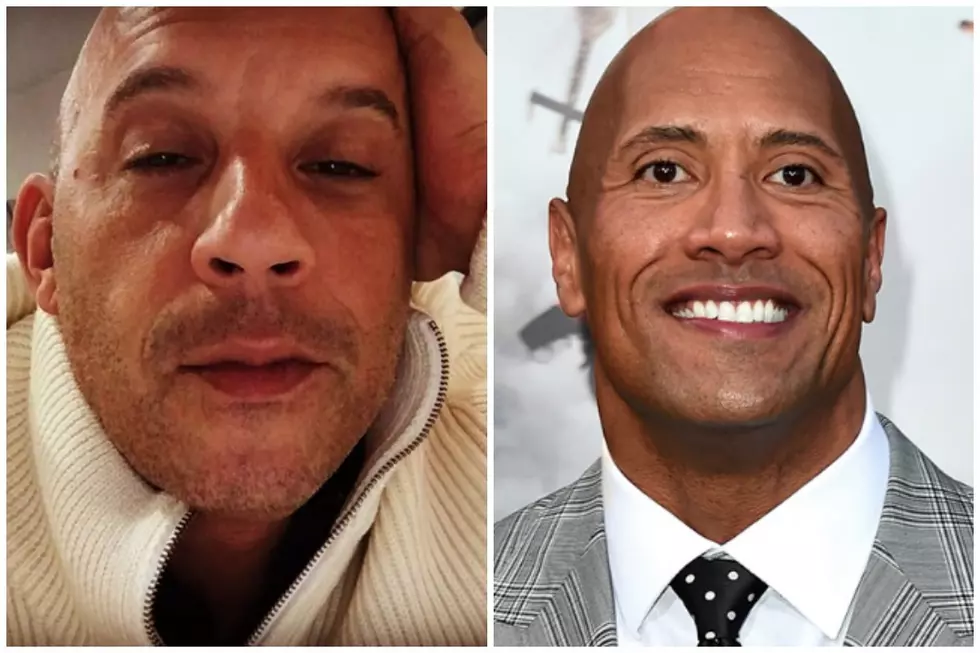 The Rock and Vin Diesel Beefing on the Set of 'The Fast & the Furious 8'?
A few days ago, Dwayne "The Rock" Johnson went on Instagram to get a few things off of his chest—namely that his male  Fast 8 co-stars were some "candy asses" and he couldn't wait until the movie wrapped.  It was soon determined that the primary alleged "candy ass" Johnson was referring to was probably Vin Diesel.
Production sources told TMZ that Johnson wasn't the only crew member who had issues with Diesel. Apparently, he was often late to set because he refused to come out of his trailer, and didn't like 7 a.m. calls, so he made the crew wait until 10 a.m. to start shooting because he was high on his power of being a producer on the film. The crew reportedly felt Vin's arrogance was "out of control" and were upset that he wouldn't listen to anyone and criticized people's acting. You know, because his acting is completely Oscar-worthy.
TMZ reported on Tuesday (Aug. 9) that Johnson and Diesel had a meeting on the Atlanta set where the film is currently shooting because tensions were so high, but no one knows what the outcome was. Apparently though, things haven't been totally squashed because last night Diesel recorded a super strange Instagram video that may've been alluding to the Rock?
It started off pretty normal but got really, really creepy at the end. After talking about his daughter learning a new word while he was away filming, he started whispering that one day he'd, "tell her everything."
Who knows what the video was about. But here's hoping filming wraps peaceably. We all know it'd be a total tragedy if The Fast & Furious 22 didn't happen.
Check Vin's Instagram post below.
Rolling Stone's 20 Coolest Hip-Hop Covers