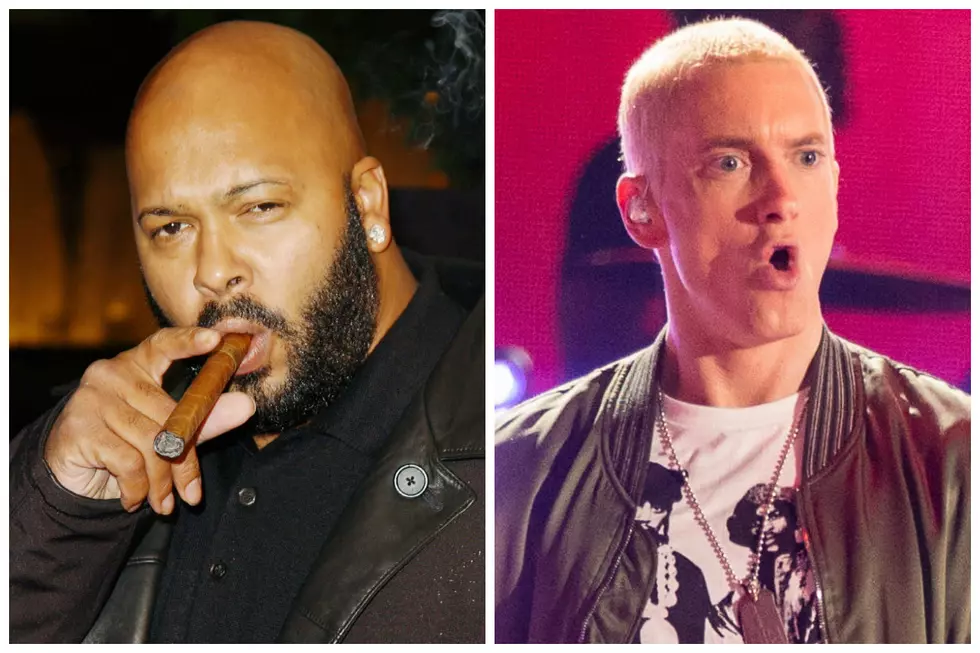 Suge Knight Allegedly Tried to Have Eminem Killed TWICE
Robert Mora/Christopher Polk , Getty Images
Suge Knight tried to have Eminem killed twice in the early 2000s, according to one of Em's former bodyguards. Big Naz used to work for Eminem, and during an interview with the Murder Master Music Show, Naz claimed that the rapper was almost killed at the 2001 Source Hip-Hop Awards for Knight's cronies. Also, a second attempt to kill Em was made--allegedly during a trip to Hawaii.
"There was a situation at the Source Awards, which was our first encounter with Suge Knight and his henchmen," said Naz. "They had it to where the artists couldn't sit with the bodyguards. I notice Em is in the aisle and he is beefing with all these guys in red shirts.
"This is what they said: 'Death Row motherf-----s! Suge Knight sent us to strong arm Eminem and it's going down!" he continued. "I had to snatch Em up and call [Dr.] Dre, because he was backstage."
And the Hawaii situation was even more harrowing.
"When the plane lands we are greeted by 20 Honolulu police officers and they told us that Death Row is here, they tried to hem [Snoop Dogg] up," Naz shared. "Suge Knight had sent 50 guys to try to break up the show. When we got there, vacation mode was over, we were locking and loading, putting on bullet proof vests with their wives and girlfriends sitting next to them."
"We had to have Interscope pick up the tab to put Honolulu police with each bodyguard, because of how deep Suge was over there," Naz said.
You can listen to Big Naz's interview below.
10 Most Shocking Arrests in Hip-Hop