10 Rappers Who Went to Jail: Cell Block B
With the criminal charges that a multitude of rappers possess, one would think they liked jail more than the comforts of their own home. Take Lil Wayne for instance, who was set to begin his one year prison sentence for gun possession in Rikers Island on March 2 before, yet another delay kept him free (for now). This isn't the Young Money CEO's first run-in with the law. Before bidding Weezy farewell, we shed light on ten rappers who got caught and cuffed, no romance included. Gucci Mane
Count the number of times Gucci Mane's been arrested and it's probably comparable to the amount of mixtapes he's dropped. On more than one occasion, the CEO of So Icey Entertainment has spent time in jail. In 2001, the rapper with the syrupy drawl was locked up for 90 days on drug possession charges. Then there's his assault charge in 2005 -- the Atlanta native hit a promoter in the head with a pool cue -- and his murder charge later that same year, which was eventually dropped. Seems like Gucci's made a career out of living behind bars, considering he's currently serving a six-month term at Fulton County Jail in Atlanta for violating his probation last year. But even with handcuffs replacing his lemon diamond chains as of late, he's still earning revenue from the release of the album -- 'State vs. Radric Davis' -- he put out from a cell.

T.I.
Watching everyone's favorite trap star guide teens toward the right path on MTV's 'Road to Redemption' made critics wonder: Did T.I. film the series only to capitalize off an impending case or does he really love the kids? We think it's the latter. Either way, he's serving his time for the crime committed. Last year, the Atlanta rapper was hit with one year and one day in prison for felony weapons charges stemming from his October 2007 arrest on the eve of the BET Hip-Hop Awards. T.I., accompanied by longtime girlfriend, Tameka "Tiny" Cottle, and labelmate Young Dro, were picked up by ATF agents after attempting to buy machine guns. After spending the initial part of his incarceration in an Arizona prison, the 'Whatever You Like' creator is currently residing in a Georgia half-way house where he will remain until the end of his sentencing.
Shyne
Perhaps Shyne thought he had to live by the Bad Boy creed to survive in this here rap game. While partying at Manhattan's Club New York in 1999, Sean "Diddy" Combs and then-girlfriend Jennifer Lopez experienced a catastrophic nightmare when the Belizean-born rapper fired his gun in an act of self-defense. Though he maintained that another gunman's bullets caused injuries sustained by club patron Natania Reuben, he was convicted of two counts of assault, reckless endangerment and gun possession, leading him to serve close to a nine-year prison term. Despite his deportation to Belize upon his release last year, the former Brooklyn resident's music career is back on track -- L.A. Reid signed him to a large figure deal with Def Jam. We only hope that Shyne's feature on 'All My Life' -- the lackluster record set to premiere on DJ Khaled record's 'Victory' album -- was just a warm-up.
Lil Kim
If there's one thing to learn from Lil Kim's time behind bars, it's to tell the truth, the whole truth and nothing but the truth. In March 2005, the Queen Bee, known for donning colored wigs in her Junior M.A.F.I.A days, was convicted of three counts of conspiracy and one count of perjury for lying to a grand jury about her co-manager, Damion "D-Roc" Butler, and her bodyguard, Suif "Gutta" Jackson's involvement in a 2001 shooting outside New York City radio station Hot 97. Once the rap star testified that she didn't know the members of her entourage were at the scene, video footage proved otherwise -- she was shown exiting the building alongside the two. In 2006, she was released after serving approximately 10 months in a federal detention center in Philadelphia. She lost the spotlight temporarily, but the Brooklyn native was just following the streets' number one rule -- no snitching. Mystikal
When Mystikal rapped 'Shake ya a--/ Watch yaself' on his 2000 single, 'Shake Ya A--,' women should've taken note to literally watch their backs in his presence. The Baton Rouge, Louisiana resident, along with two bodyguards -- Leland Ellis and Vercy Carter -- reportedly attacked the rapper's hairstylist in his home in 2002. Why did the rapid-fire lyricist act like such a low-down, dirty scoundrel? According to Mystikal, she cashed an unauthorized check made out to her from his account. To escape prosecution, the woman was forced to agree to Mystikal's sexual demands. But bad boys eventually get punished for their actions and in 2004, Mystikal was incarcerated for six years in Louisiana's Elayn Hunt Correctional Center. His release back to society came less than two months ago, to little fanfare. Let's face it, box braids and durags don't cut it anymore.
C-Murder
If C-Murder had the chance to look in a crystal ball to see his future, chances are he would've picked a moniker that didn't have such a negative connotation. In 2002, while at the now-defunct Platinum nightclub in Harvey, Louisiana, Corey "C-Murder" Miller, brother of Master P and Silkk the Shocker, fatally shot a 16-year-old fan, who went to the venue to perform in a rap competition with the knowledge that Miller would be present. Following the assault, a jury found the rapper guilty of second-degree murder. Though he was able to appeal that conviction in 2003, the 39-year-old New Orleans native was sentenced to life in prison last year. During the trial, the former No Limit artist changed his rap name to C. Miller. A sly attempt for a wolf in sheep's clothing, no?
Foxy Brown
Look up the word "feisty" in the dictionary, and Foxy Brown's mean mug is sure to appear. The rapper, born Inga Marchand, has a bit of a problem with keeping her hands to herself. In 2006, she was put on probation after assaulting several employees of a Manhattan nail salon. The big snafus were the arrests that came after, including one for allegedly throwing hair-extension glue at a beauty-shop owner in Florida and another for smacking her 25-year-old neighbor with her BlackBerry. The apparent probation violations resulted in a year-long prison sentence. Before her release in October of 2008, the 'Ill Na Na' called home to solitary confinement for 76 days. What did the 32-year-old do to deserve such a punishment? Surprisingly (sense the sarcasm here), Brown was involved in a physical altercation with another prisoner.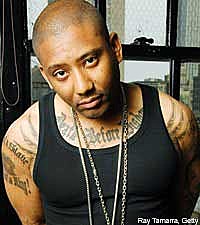 Maino
Brooklyn-born rapper Maino hit the slammer even before he snagged a charting hit. As an adolescent, the 'Bring It Back DJ' creator found himself caught up in the street life, moving in and out of group homes and juvenile detention centers before graduating to the big house. What were the details of his rap sheet? The gritty lyricist earned a five to 15-year prison bid for a drug-related kidnapping during the early 90s. Do the math correctly and it appears Maino, born Jermaine Coleman, was barely a teenager when he did the crime. Despite being incarcerated for a decade, the heavily tattooed emcee found solace by spitting 16 bars, which lead to his subsequent signing with Atlantic Records after his release from prison in March 2003; a surprising turn of events for a convict. Note to unsigned talent: getting locked up does not lead to a record deal.
Ras Kass
Hip-hop has an affinity for bubbly and top-shelf liquor. In the case of West Coast emcee Ras Kass, his love for libations resulted in multiple arrests throughout his career. In 2002, Ras was pulled over for a D.U.I. -- his third conviction -- while driving in California. The lyricist, who was scheduled to turn himself in to authorities to serve a nine-month sentence, went on the lam, protesting what he labeled to be a "slave deal" with his former label, Priority Records, when they refused to put out his third album, 'Goldyn Child.' After serving almost two years for the drunk driving charge, he was released, but not for long. In 2007, Ras, who's collaborated with the likes of Dr. Dre, was arrested and jailed, again, this time for violating the terms of his probation by appearing at the BET Hip-Hop Awards in Atlanta. Thankfully, he was flying and not riding dirty.
Remy Ma
Just like the cognac closely associated with her name, Bronx-bred emcee Remy Ma serves her lyrics straight, no chaser. Such is the case with her temper as well. While most gal pals turn to hair pulling to handle a personal beef, Remy did quite the opposite during the summer of 2007. After a night of partying at New York City nightspot Pizza Bar, the rapper argued with longtime friend, Makeda Barnes-Joseph, over $2000 that went missing from her purse. Thinking she stole the cash, Remy shot her twice. As a result, the former Terror Squad member was found guilty of two assault charges and is currently serving an eight-year jail sentence in a women's correctional facility. Though the 29-year-old isn't expected to return to a studio until 2016, we're sure she's biding her time well with conjugal visits from her husband, rapper Papoose.
Compiled and written by Georgette Cline.