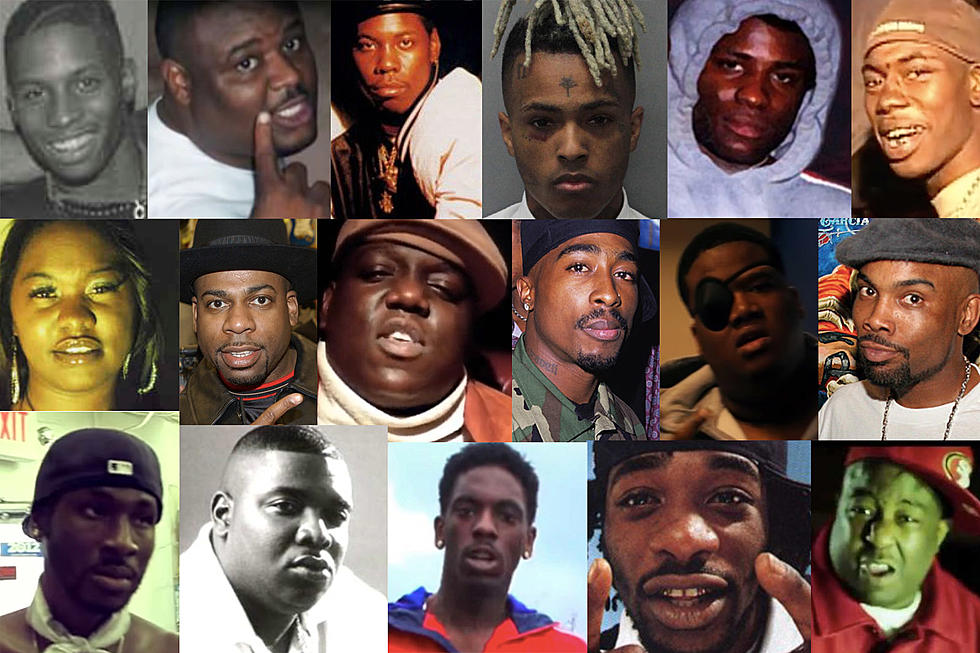 Gone Too Soon: Rappers Who Have Been Murdered
B-Boy Records / Getty Images / Bad Boy / Miami Dade County Corrections / Siccness.net / Grand Hustle Records / Street Money Worldwide / Woponese/ YouTube
Hip-hop has always been tied to the streets. To that end, death and murder has also unfortunately, been a tragic part of rap music. We're remembering the lives of those rappers who have been murdered.
From the late '70s and early '80s, when DJs would come together to battle against other neighborhoods, to the evolution in the late '80s and '90s, when rappers would detail what life was like trying to live free as black men in impoverished communities unjustly targeted by law enforcement, that link was cemented when hip-hop was rocked by one of its earliest murders, the 1987 death of Boogie Down Productions DJ, Scott La Rock.
In some cases, rappers have struggled to let it go completely to focus on creating, and their string of trouble simply followed them into the business, ending in death. In other cases, fame brought about extra unwanted attention, and the violence was only exacerbated by the limelight, as was the case with artists like 2Pac.
In other instances, it was simply a case of being somewhere at the wrong time, or a small incident which escalated violently—D-12's Proof's tragic murder was a prime example.
Sometimes, the murders were solved, but in many, no arrests were ever made, including the highly-publicized murders of Jam Master Jay and Notorious B.I.G.. However, in almost all the cases, the rappers were young, in their late teens or early 20s. And none one this list made it to see the age of 40.
With the recent surprise murder of not one, but two up-and-coming rappers on the same day, Florida rapper XXXTentacion and Pittsburgh rapper, Jimmy Wopo, the hip-hop community was rocked by violent death yet again.
We've compiled a list of some of hip-hop's most tragic murders. Check them out below.