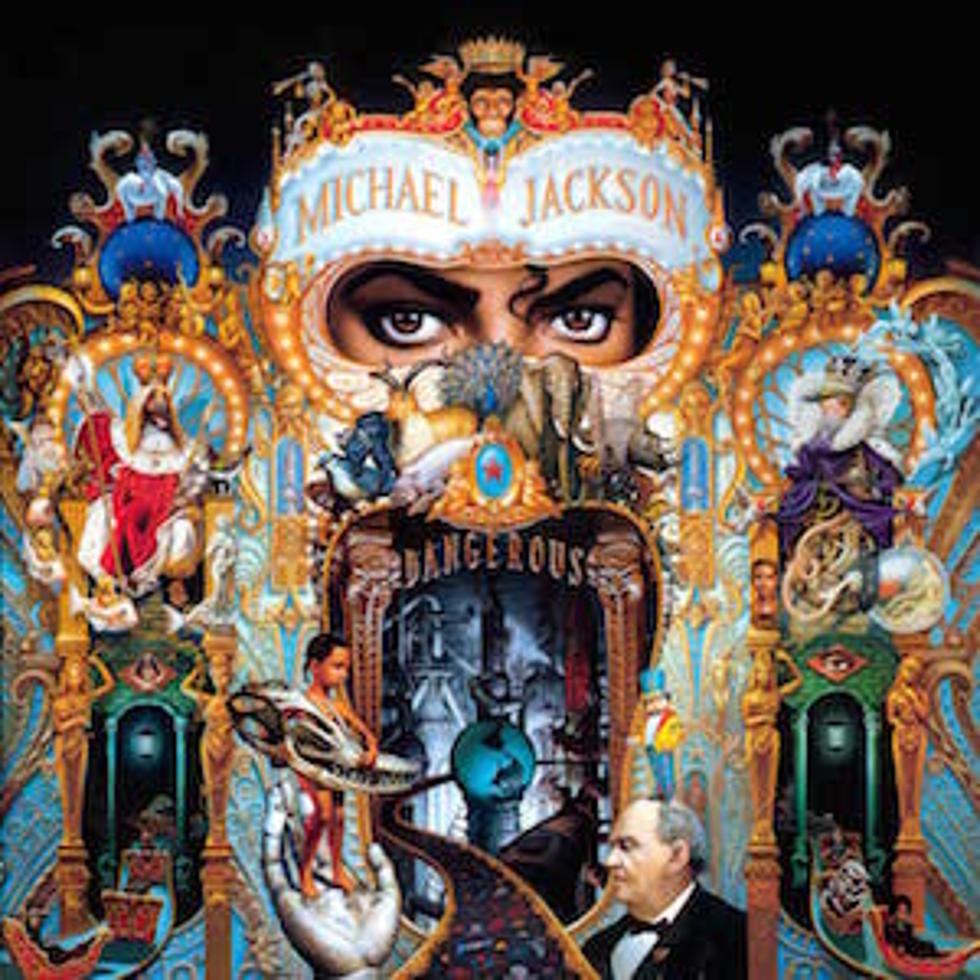 Michael Jackson's 'Dangerous' at 25: The King of Pop Opened the 90s With a New Swing
Sony/Epic
Michael Jackson's 1980s run is one of the most legendary and well-known in the canon of popular music. When that decade dawned, MJ had just released his solo breakthrough Off the Wall, a multiplatinum success that established him as a star independent of The Jacksons. He followed it with a return to the fold for the Jacksons' successful Triumph album in 1980; but both albums would be overshadowed by the historical success of 1982s Thriller. That album came to define the 1980s and announced Michael Jackson as the biggest star in the world; he followed it with the USA for Africa's "We Are the World" project and another, ill-advised return to the Jacksons for the poorly-received Victory album and tour. That misstep barely fazed Jackson's momentum; the superstar released Bad in 1987, a blockbuster album and tour that was followed by the ambitious Moonwalker film project. At the end of the 1980s, there was no doubt that Michael Jackson was the most inescapable media star of the decade--but the times were a-changin.'
But they always do--and Jackson had shown himself capable of keeping up and staying ahead. There is a clear sonic shift in Michael Jackson's Thriller sound and his Bad sound; music had moved away from the lingering disco and smooth R&B of the early 1980s and it had moved toward drum programming and aggressive synths. Victory was the first MJ-related project to embrace mid-80s studio sounds, but Michael's involvement was often marginal. Quincy Jones had navigated that musical shift on Michael's albums and his production on Bad yielded a record-setting six Top Ten hits, but no one could've realized that Bad was released just as a new age was dawning in Black music that would re-direct popular production.
Less than four months after Bad was released, a new R&B star named Keith Sweat would hit the airwaves with a soon-to-be multiplatinum album. That album was Make It Last Forever, and it's success announced the emergence of New Jack Swing--and a young producer named Teddy Riley. As Bad rode the charts throughout 1988 and into 1989, Riley's sound--and the sound of his contemporaries like L.A. and Babyface and Jimmy Jam & Terry Lewis--came to be the new standard for dance music and Black music. Just as funk had been displaced by the dominance of Jackson-esque dance pop in the mid-1980s, this New Jack Swing was becoming the new sound of dance pop, as artists like Taylor Dane, New Kids on the Block and Debbie Gibson were incorporating the production-style into their hits.
As such, the sound of Bad was as dated in 1991 as the sound of Thriller had been in 1987. And while Quincy's production had yielded great success over the course of three albums, it's hard to see Bad as a more musically groundbreaking LP than contemporaneous releases produced by Jam & Lewis, L.A. and Babyface or Riley. Jackson knew that a change was imminent; and at the dawn of the 1990s, he moved in a different direction. One without Quincy Jones.
Dangerous stands as a moment of reinvigoration for Michael Jackson. Working without Jones for the first time since 1979, and having proven that his stranglehold on megastardom wasn't waning in the years following Thriller's groundbreaking success; Jackson seemed both hungry for new challenges and liberated by his new collaborator in Riley. And after spending the 80s towering over any preconceived notion of a "crossover" star, Jackson was seeking to get back to the cutting edge of Black music.
"For Dangerous, I brought R&B back to Michael in its barest form; R&B and funk," said Riley in a 2009 interview with MusicRadar. "We recorded it in California, at Record One, and then we ended up in Larrabee Studios. I was using a lot of vintage stuff to get the sound we needed. Reeds and SSL XLs were mainly the boards we used – I always loved vintage better than digital. It's way better… much warmer."
Jackson had begun work on Dangerous with producer/writer Bill Bottrell but, on a recommendation from Jones, he'd brought in Riley.
Jackson and Riley would write songs together over the course of those several months. Jackson's songwriting had first blossomed during his late 70s run with the Jacksons, but Bad had been his first album to be dominated by Michael Jackson-penned material. On Dangerous, Jackson would exhibit similar creative control both as a writer and a producer. Jackson and Riley's talents complemented each other well and the result of their songwriting was some of the strongest songs Jackson would ever pen; from the buoyant "Remember the Time" to "Joy," a track that would eventually find it's way onto the debut album from BlackStreet, Riley's second multiplatinum R&B group after the breakup of Guy.
Anticipation for Dangerous was high; and Jackson's brand was more visible than ever. He'd signed with Sony Music for a reported $50 million in early 1991, the most lucrative contract in music history. The cost of the recording sessions became a fixation for music press.
"I simply don't understand how it's possible to spend $10 million making an album. People have spent $2 million. But $10 million? That's just beyond comprehension," an unnamed manager told Rolling Stone shortly after Dangerous was released. Co-producer Bruce Swedien claimed that Jackson had been crafting songs as far back as 1987. "Michael started the day we finished Bad," he said. "The next day he was doing demos."
And media scrutiny was becoming more cynical and critical of the star. Throughout the 1980s, Michael Jackson had been America's favorite popular singer; a quintessential "nice guy," a non-threatening Black man who palled around with E.T. and Emmanuel Lewis. But the innocence of his early days of pop megastardom had given way to an incessant media din surrounding his personal life and finances. Reports that Michael had demanded he be referred to by the self-appointed moniker "The King of Pop" were met with disapproving scoffs; as were the articles about the cost of making and promoting Dangerous.
The most unexpected swipe came from Michael's own brother, R&B singer Jermaine Jackson; whose controversial "Word To the Badd" was leaked to radio stations just before Dangerous was released. The song blasted Michael for everything from his plastic surgeries to his estrangement from Jermaine.
"I understand he's a very busy person, but after you repeatedly try to contact your own brother and he doesn't call you back, you begin to wonder if he hasn't just completely lost touch with reality," Jermaine told The Times in 1991.
"I know people are going to go off on a tangent and say that Jermaine is jealous. But it's not true. Michael and I have never feuded. The only reason I wrote this song--and it came from the bottom of my heart--was to help my little brother get a grip on reality. I never meant to discredit him. The song was never supposed to come out in public. But now that it has, I am hear to say that, yes, I wrote it and I stand by it."
All of it meant a much angrier Michael Jackson than the public had heard on his 80s records.
"We anticipated a lot of people saying a lot of stuff about Michael," says Riley. "[MC Hammer] going after Michael and Jermaine going after Michael. We anticipated that. That's why we wrote songs like 'Trippin' ['Why You Wanna Trip on Me'] and 'Jam.' We know that people are after him, people are talking about him. But we didn't get too direct, we didn't say anybody's name. 'Cause when you're too direct, it gets boring."
Fellow superstars Prince and Madonna had courted controversy from the outset of their careers, but Michael Jackson had largely remained as family-friendly as Disney movies and Ronald McDonald. That would begin to change with Dangerous. The album's first single was the pop-rock hit "Black or White." Produced by Jackson and Bottrell, the single's video was a major MTV event; with an expensive promo campaign and a lavish video that featured Jackson performing in various locales around the world. The video closed with a 4-minute dance sequence, during which Jackson smashed windows and grabbed his crotch repeatedly. There was an immediate backlash against the violence and suggestive material, resulting in an edited version becoming the standard video shown on television. But the controversy--and the lyrics to the song itself, which reference the KKK and declare "I'm not gonna spend my life being a color"--was indicative of the more assertive tone of Jackson's image, songs and subject matter in the 1990s.
Dangerous was released on November 26, 1991; and it quickly became another monster seller for Michael Jackson. The aforementioned "Remember the Time" became another megahit, and with it's fluid groove and undeniable melody, it's arguably the best single Jackson would release in the 1990s. It also featured one of Jackson's most iconic videos; set in ancient Egypt, with the singer playing a mysterious sage/jester who arrives to entertain the pharaoh (played by Eddie Murphy) and his bored queen (Iman.) The John Singleton-directed clip also featured cameos by NBA star Magic Johnson and actor Tiny Lister.
"...Time" is the most notable track on the first half of the album, which is dominated by Riley's New Jack Swing. As such, it stands as one of the most singularly-focused stretches in MJ's catalog--especially up to that point. "Jam" is a positively kinetic opener that may not be as transcendent as "Don't Stop Til You Get Enough" or "Wanna Be Startin' Something;" but it's an aggressive bit of hip-hop-drenched funk with a stellar rap verse from Heavy D. Paul Jackson Jr's guitar intro opens "Why You Wanna Trip On Me," another uptempo New Jack Swing track that effectively melds Jackson's traditional rhythm guitar-driven groove to Riley's programmed beats. The lyrics feature Jackson's most defensive and hostile voice--bearing similarities to the frustration expressed on Bad's "Leave Me Alone."
The sparse "In the Closet" would become the album's third Top Ten single when it was released in April 1992, and is another standout. It's one of the most effectively "sexy" songs Jackson would ever record, accompanied with a stylishly sepia-toned, desert-set video featuring supermodel Naomi Campbell. "In the Closet" was originally planned to be a collaboration with Madonna before Jackson moved on with a solo recording. Songs like "Heal the World" and "Will You Be There" discarded the tropes of New Jack Swing for more middle-of-the-road stylings, but were also monster hits that carried the proverbial torch that had been lit by "Man In the Mirror" in 1987; this was Jackson at his most sentimental and grandiose. These are the kinds of songs meant to elicit candles in the air in arenas around the world, and they would become staples of Jackson's subsequent tour. The connection to "Man In the Mirror" is even more apparent on the Siedah Garrett and Glen Ballard-penned "Keep the Faith," which features the Andrae Crouch Singers.
"Who Is It" taps back into a familiar Jackson theme: paranoia. Echoing previous classics like "Billie Jean" and "Heartbreak Hotel," Jackson delivers one of the most urgent moments on Dangerous, singing "Still I cry alone at night/Don't you judge of my composure/Cause I'm lying to myself." It may not have become as well-known as "Black or White" or "Remember the Time," but it's one of the best songs on the album; as is the Bottrell-produced "Give In To Me;" a song that sits somewhere between R&B and hard rock and melds those two styles better than Jackson had on his more ham-fisted attempts in the 1980s. The intensity of his vocal, the arrangement--it's one of the best moments on Dangerous and arguably the best of the non-Riley produced material.
Some critics unfavorably compare the more pop/rock second half of Dangerous to the New Jack Swing that dominates the first half; and the stylistic disparity can make the album feel a bit schizophrenic. But that's true of almost every great Michael Jackson album; Dangerous stands as his most focused post-Thriller album--informed by that album's be-all-things-to-all-fans approach and carried by Bad's creative control. In 1991, MJ was still making music for everybody, but he was less willing to pander for their adulation. Racism, sex, isolation and anger are recurring themes throughout Dangerous and many of the big hits from the album were presented in ways that evoked Blackness. From the cultural references in the video for "Black Or White" (he morphs into a black panther in the video and also declared "I ain't scared of no sheets" on the song's bridge) to the Egyptian-themed "Remember the Time" video with it's all-Black cast and Black director, to using Naomi Campbell as the love interest in "In the Closet" as opposed to a fairer-skinned model, a la Tatiana Thumbtzen from his famous "The Way You Make Me Feel" video. In that respect--and in his pairing with R&B's biggest hitmaker at the moment--this was Michael Jackson's blackest album since Off the Wall--even if the music is just as varied as it had been on Thriller and Bad.
Of course, in less than two years after the release of Dangerous, Michael's innocent image would be forever torn away after molestation allegations were levied against the star. The edginess he'd embraced on Dangerous became something else entirely in the hands of a voracious media culture already intent on picking him apart, and Jackson would only grow more resentful and defensive over the next 15-plus years. The unyielding scrutiny on his legal problems, health and personal life slowed his output dramatically--he would only release two more full studio albums, 1995s HIStory and 2001s Invincible, before his death in 2009.
As such, Dangerous is a bookend to the decade-plus when Michael Jackson seemed to rule the world. The world had never seen anything like what he became from the early 1980s to the early 1990s, and Dangerous is him bristling and pushing back against the demands of what becoming such an icon had done to him. In that, it becomes his last truly classic album. It's also one of the last great showcases for New Jack Swing; the production style would begin to give way to hip-hop soul after Mary J. Blige's debut in 1992 and Riley himself would move on from it around the same time. But Dangerous hasn't aged a day--a testament to the craft and vision of Jackson. And in the early 1990s, that vision was still crystal clear and that craft was still virtually unmatched in music. Grunge and gangsta rap loomed; but Michael Jackson was still the most formidable force in popular music and Dangerous only further confirmed it.
Worst to Best: Every Rihanna Album Ranked