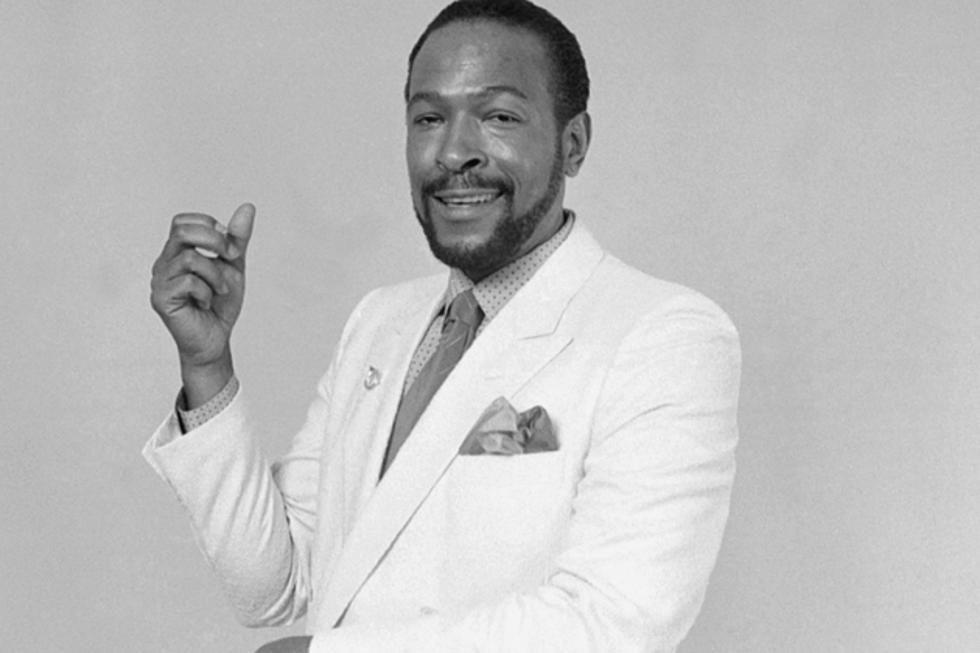 On Anniversary of Marvin Gaye's Death, Ex-Wife Janis Speaks – Exclusive Interview
NBCUniversal / Getty Images
Twenty-nine years ago today (April 1), Marvin Gaye was shot by his father after an argument at his parents' home in Los Angeles.
Despite his personal demons, the legendary soul singer was in the midst of a comeback, still riding high on the success of "Sexual Healing," and the album Midnight Love, which had been released two years prior.
This was, of course, after a storied career that had already spanned more than two decades and which had seen the release of albums like What's Going On (1971), Let's Get It On (1973), I Want You (1976) and Here, My Dear (1978), amongst many others.
With a Marvin Gaye biopic (Sexual Healing) in the works and a play -- 'My Brother Marvin,' based on accounts of his sister Zeola Gaye -- touring the country, we sat down with his second wife Janis Gaye for an exclusive interview. Read on as she reflects on her late ex-husband's legacy.
Marvin's 1976 album 'I Want You' was solely dedicated to you. How does that feel?
It's not officially dedicated to me, but people that have listened to it and people who were around when it was being made all seem to think it was dedicated to me. And I like to think that as well. If you were to ask [songwriter/producer] Leon Ware, he would definitely tell you that the words he wrote and the music he co-wrote with Marvin for the album were inspired by our relationship at the time. It is something that I look back on and think back to a much happier time
Were you there for the recording of any songs from that album?
Absolutely. We lived at the studio [Marvin's Room] during a good deal of the time it was being recorded. We called it home. We had a house, but Marvin preferred to stay at the studio. The kids would be there and we had an apartment upstairs.
What was the experience like being there watching the recording process for these songs?
Sometimes I look back on it and I think to myself, "Were you really there?" "Did you really see what you thought you saw?" I was there when "Got to Give It Up" was being recorded and Don Cornelius walked through the studio. You can hear Marvin on "Got to Give It Up" saying, "Hey, Don. Hey, Don!" That was done in real time. It's little moments like that, that make me appreciate and remain really grateful to have been in Marvin's life, and to be around when the music was being made.
Many people don't know how giving Marvin was during his lifetime.
He was such a generous soul. Many times if he knew someone was struggling financially within their family, without being asked he would either give them money or a car. If he knew there were kids playing at a playground, just to get them all riled up and give them something to talk about, he would go shoot hoops with them in the neighborhood... When Ruben "Hurricane" Carter was going through the worst times in his life, Marvin shaved his own head and did a concert to support him.
What was it like being Marvin's wife?
It had its up and downs. When you have to beat women off with a stick, it can get a little tedious. ... Being around someone like Marvin was an enviable position to be in. We ended up divorcing, which was unfortunate, but that's just what happened. We were actually together long before we said, "I do" in front of a judge. We already had our children. Getting married was just a part of the process for us. After we were divorced, we still continued to see each other.
Did he ever talk about his relationship with Motown Records when you were together?
Sometimes it was good and sometimes it was bad, but I think that goes for every artist that signs with any record label. But, I think in his case, the fact that he was literally a part of the Motown family having been married to Anna [Gordy] made things a little more complicated for him... I'm looking forward to seeing Motown the Musical to see how he is portrayed and the relationship is portrayed.
What are the more positive aspects of Marvin's life, the things people tend to overlook?
The first thing that comes to mind is his relationship with his children, Nona and Frankie. All I remember is him being a terrific father... He was a great father and he loved his son and his daughter. He absolutely adored them.
One of the other things that people don't really acknowledge is that he could've been a standup comedian. He and Richard Pryor were very good friends. I would listen to the two of them talking and it was sheer comedy. You don't really think of Marvin Gaye as being this funny guy, but he had an incredible sense of humor.
He was an artist not just musically, but he could draw. Music was poetry with a melody, but he wrote great poems that were never recorded as songs. He had a great interest in history. He had a very deep interest in not just the Christian religion, but all religions to know what people around the globe believed. Of course he was a man of God and believed in Jesus Christ. He was into metaphysics long before other people even knew what that word meant... This was back in the early 70s. He was walking around with a pyramid on his head in 1974-1975 eating vegetarian food. He was a hippie when I met him. We both were hippies.
One of his favorite things to do was to drive a tractor trailer. He had a ranch in Northern California. He would get onto his tractor and till the soil. He was like a mountain man. He would have on his combat boots and his jeans would be rolled up and he would stay up there for weeks and weeks at a time.
What are your feelings on 'My Brother Marvin,' the Marvin Gaye play?
People who are going out spending their hard earned money to buy tickets to go and see this play -- they will not hear one note of Marvin's music. I've heard too many people complaining and saying that they feel like they've been scammed and taken advantage of. You go to a Marvin Gaye play to hear Marvin Gaye's music. There are too many deeply devoted fans that are going to the play and they get into their seats and they hear an announcement that they won't hear any Marvin's music.
Instead, they hear this is a play about the man behind the music... You'll hear Percy Sledge, Tina Turner, Az Yet, and everybody else's music except Marvin's because they can't use the music. If it was a play that was coming from a different place, maybe the situation would be different, but it's not. I plan on seeing the play. I think that everyone can remember where they were the day he was shot... They're saying it's about Marvin's life or the man behind the music, but it's really about his death. And it ends with him being shot on stage and the smell of gun powder remains in the theater. To me, that's taking it a little too far... That's not what Marvin would want.
If Marvin were still living, what do you think he would say to the world today?
I don't think he would be able to tolerate what's going on in the world today because when you think about it, What's Going On was done in 1971. This is 2013 and we're still talking about the same issues and people are still going through the same things they were back then and before then. And it's unfortunate. But that's his testament that he leaves with us. Learn from his words if you can and I think he left us with a few lessons by the way he lived, by the way he died, and by the way he created his music.
I'm a lucky woman. I really am. I'm a very lucky woman that we met and came together and had two beautiful children. We had some wonderful times together and, unfortunately, we had some times that weren't so wonderful, but it is what it is. There is nothing that anyone can do to change it now. I don't blame anyone. I can't put the blame on anyone for anything that went wrong between him and me except for myself. I accept responsibility for anything I may have done to make his life difficult. It is just something I have to live with and deal with. I would have to say that the good far outweighed the bad even though he is no longer with us. The good still outweighs the bad and I wouldn't change any of it.