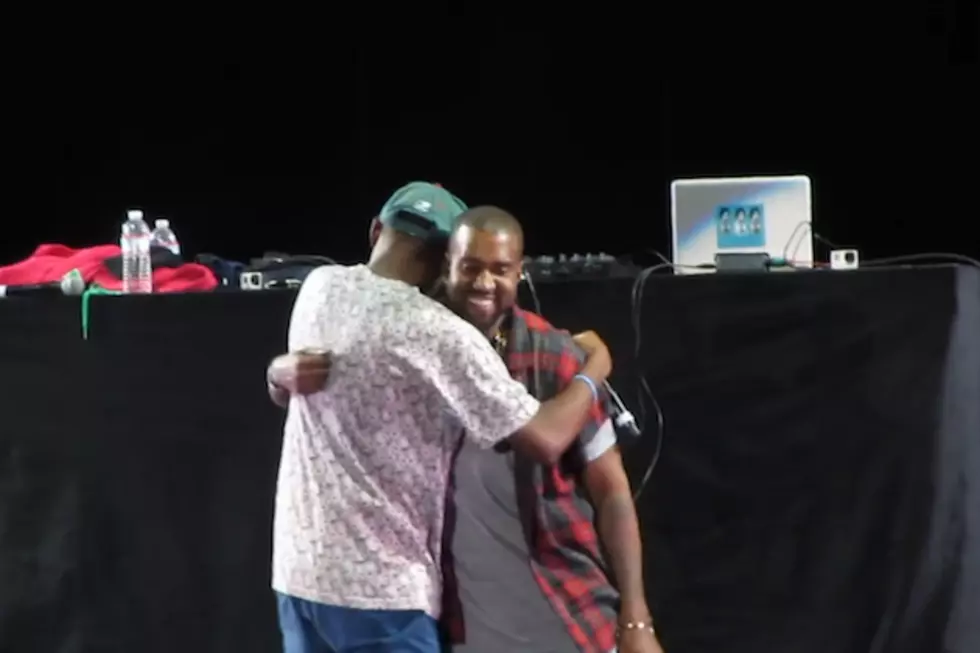 Kanye West Performs At Odd Future's Carnival [Videos]
YouTube
West rapped his polarizing song 'New Slaves from the 'Yeezus' album, as well as 'Late' from his 'Late Registration' album. Tyler had to help out 'Ye with the latter song because he couldn't remember the lyrics.
Before the G.O.O.D. Music leader rock the mic, him and Tyler shared a sweet moment together onstage. The OF rapper was so thrilled to have 'Ye perform he asked for a hug.
"Can I have a hug first? I am so f---ing happy," he said.
However, Tyler saved the best for last with Frank Ocean closing out the evening with a soulful set. The crooner performed a slew of hits including, 'Forrest Gump,' 'Bad Religion,' 'Pyramids' and 'Golden Girl.'
"I'm feeling all the vibes tonight, I'm feeling all your vibes," Ocean told the crowd.
The Camp Flog Gnaw Carnival is a special event dedicated to Odd Future fans. The festivities included live music, amusement rides, games, food trucks and a skatepark. A fun time was had by all at this glorious event. Big ups, Tyler!
Watch Kanye West Perform 'New Slaves' at Camp Flog Gnaw Carnival
Watch ScHoolboy Q Perform at Camp Flog Gnaw Carnival
Watch Mac Miller and Earl Sweatshirt Perform 'Hey Ma' at Camp Flog Gnaw Carnival
Watch Tyler the Creator Perform 'She' at Camp Flog Gnaw Carnival
Watch Frank Ocean Perform at Camp Flog Gnaw Carnival