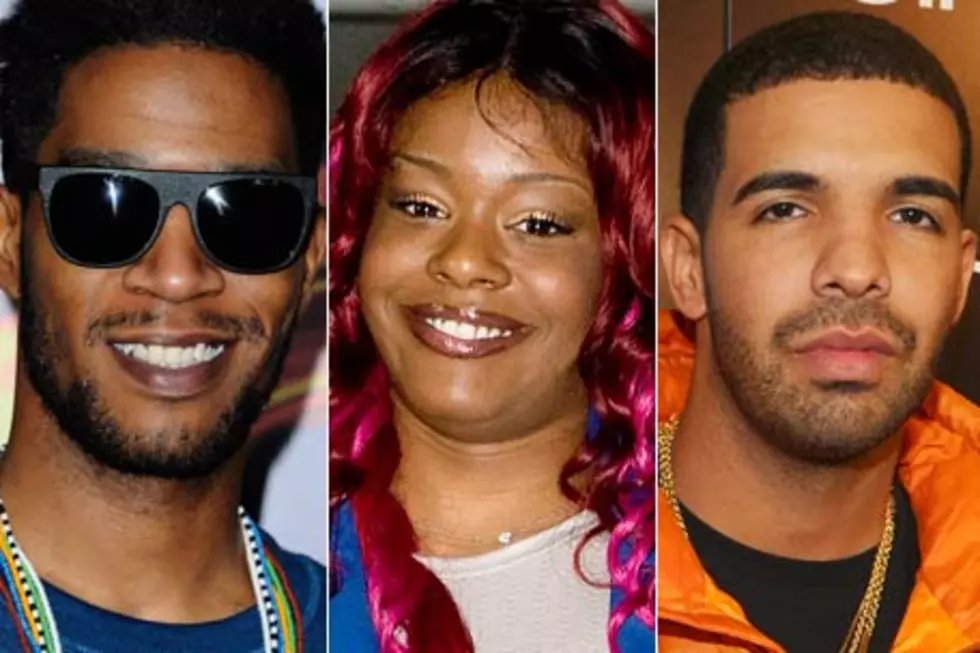 Hip-Hop Rocks: Rappers Get Into the Groove of Indie Rock — Listen
Getty Images
In the last several years, an abundance of hip-hop artists have begun to sample their indie contemporaries. Perhaps it's because the hip-hop community is only so large, and its compulsively collaborative spirit could only stretch so far before it dried up the well. Whatever the reason, rappers of all ilks have dipped into the catalogs of a wide range of indie artists -- from the quiet and plaintive Justin Vernon to psychedelic rockers MGMT. Most recently Kid Cudi's rock-oriented album WZRD sampled Canadian electro-poppers Desire. Here The BoomBox recounts some of our favorite hip-hop and indie rock collaborations.
Kid Cudi has always been a little hard to pin down stylistically. His half-sung half-rapped verses aren't afraid to stay just adrift of a melodic anchor, and his stoned-out rhythm is often at home right behind the beat. His new rock project, 'WZRD,' is no exception. The first single, 'Teleport 2 Me, Jamie,' samples Desire's electro pulser 'Under Your Spell,' which is featured on the indie soundtrack favorite of the year, 'Drive.'
Listen to Kid Cudi's 'Teleport 2 Me, Jamie'
Azealia Banks Taps Peter Bjorn & John
Though new on the scene,
Azealia Banks
has been cultivating a very respectable indie pedigree, covering Interpol's 'Slow Hands' and sampling
Peter Bjorn and John
's 'The Chills' on her similarly titled homage 'The Chill$.' Banks employs the song's signature bassline and beat and splices some of the vocals into the chorus. The driving presence of the original provides a perfect counterpoint for Banks' laidback flow in her reworked tribute.


Listen to Azealia Banks' 'The Chill$'


Lupe Fiasco Taps Modest Mouse
Lupe Fiasco's 'The Show Goes On' references several musical touchstones outside the world of hip-hop, most notably Modest Mouse's 'Float On,' which is interpolated into the melody and guitar line. The tune also uses Pachelbel's 'Canon' as its low-end foundation. Though Fiasco claims ignorance, crediting his producer Kane with the song's musical lineage, he did land a well-placed barb directed at his record label. Paraphrasing Johnny Rotten's famous quotation during the final Sex Pistols show, "Have you ever had the feeling that you were being cheated?" Lupe opens up his first verse asking, "Have you ever had the feeling that you was being had?"
Listen to Lupe Fiasco's 'The Show Goes On'
Drake Taps Peter Bjorn & John
David Livingston/Getty Images | Brian Ach/Getty Images for DeLeon Tequila
Following in the footsteps of Azealia Banks,
Drake
cribbed from Peter Bjorn and John, paying homage to the Swedish trio by recycling the song title 'Let's Call it Off,' which appears on their 2006 album 'Writer's Block.' The song, reborn on Drake's 2009 smash-hit mixtape 'So Far Gone,' helped establish his identity as an MC with indie leaning tendencies. It appears pretty much unadulterated until Drake's single verse kick in at two minutes in.
Listen to Drake's 'Let's Call It Off'
Childish Gambino Taps Grizzly Bear
Katie Stratton/Getty Images | Cindy Ord/Getty Images
Grizzly Bear
released their 2009 album 'Veckatimest' to widespread critical acclaim and the hip-hop world took notice. All of a sudden, the bouncy instrumental of their standout single 'Two Weeks' became a favorite sample because, shockingly, the band that made a name for itself by shelling out quiet, inscrutable tunes had stumbled upon a fantastic hip-hop beat. Among the various mashups and remixes,
Childish Gambino
's 'B---- Look at Me Now (Two Weeks)' stands out. Featured on a mixtape sampling other indie artists like
Neon Indian
and
Sleigh Bells
, Gambino raps, "I'mma try to make my street cred stack up/ I mean I'm rapping over Grizzly Bear, what the f---."
Listen to Childish Gambino's 'B---- Look at Me Now'

Kanye West Taps Justin Vernon
Kevin Winter/Getty Images | Pascal Le Segretain/Getty Images
Long before
Justin Vernon
was known as Bonnie Bear, he was snatched from the woods of Wisconsin, flown out to Hawaii, and asked to lay down vocals on "at least 10 songs" by none other than
Kanye West
. The fruits of that session resulted in two of the best tracks on 'My Beautiful Dark Twisted Fantasy' -- 'Lost in the Woods,' which samples Vernon's auto-tuned 'Woods,' and 'Monster,' which makes use of Vernon's delicate croon. Speaking in reference to working with his 'Monster' collaborator
Rick Ross
, Vernon recalled, "I was literally in the back room rolling a spliff with Rick Ross talking about what to do on the next part of a song. It was astonishing." Indeed.
Listen to Kanye West's 'Monster' Feat. Rick Ross, Nicki Minaj & Jay-Z
Chiddy Bang Taps Passion Pit
Roger Kisby/ Getty Images | Jemal Countess/Getty Images
Rap trio
Chiddy Bang
have made a name for themselves by sampling artists like
Radiohead
,
Sufjan Stevens
and Grizzly Bear -- 'Two Weeks' -- since they released their first mixtape, 'The Swelly Express,' in 2009. Featured on that mixtape is the song 'Truth,' which samples 'Better Things' by electro-poppers
Passion Pit
. The already-buoyant track is sped up significantly, lending the song a driving, frenetic pace -- don't listen to it if you're trying to relax.
Listen to Chiddy Bang's 'Truth'
Frazer Harrison/Getty Images | Pascal Le Segretain/Getty Images | Michael N. Todaro/Getty Images for AKOO
T.I.
's song 'Swagga Like Us,' released off his sixth studio LP, 'Paper Trail,' took the radio world by storm when it hit airwaves in late 2008. The song sampled
M.I.A.
's lines, "No one on the corner has swagger like us," from her ubiquitous track 'Paper Planes. That effort in turn sampled
the Clash
's 'Straight to Hell' and features a cocktail of heavy-hitting rappers:
Jay-Z
and T.I. share the spotlight with Auto-Tuned guest verses from Kanye West and
Lil Wayne
.
Listen to T.I.'s 'Swagga Like Us' Feat. Jay-Z & Lil Wayne
Downtempo crooner and member of OFWGKTA Frank Ocean made waves with his debut mixtape 'Nostalgia, Ultra.' The collection sampled tracks from the likes of Coldplay and Radiohead, but the standout sample is the album closer 'Nature Feels.' Ocean puts his own spin on MGMT's single 'Electric Feel,' delivering warmly sung lines over the original's electro swirls, evolving the song into an R&B original.
Listen to Frank Ocean's 'Nature Feels'


Watch 'Learn About the History of Rap'
#fivemin-widget-blogsmith-image-702693{display:none;} .cke_show_borders #fivemin-widget-blogsmith-image-702693, #postcontentcontainer #fivemin-widget-blogsmith-image-702693{width:476px;height:357px;display:block;}