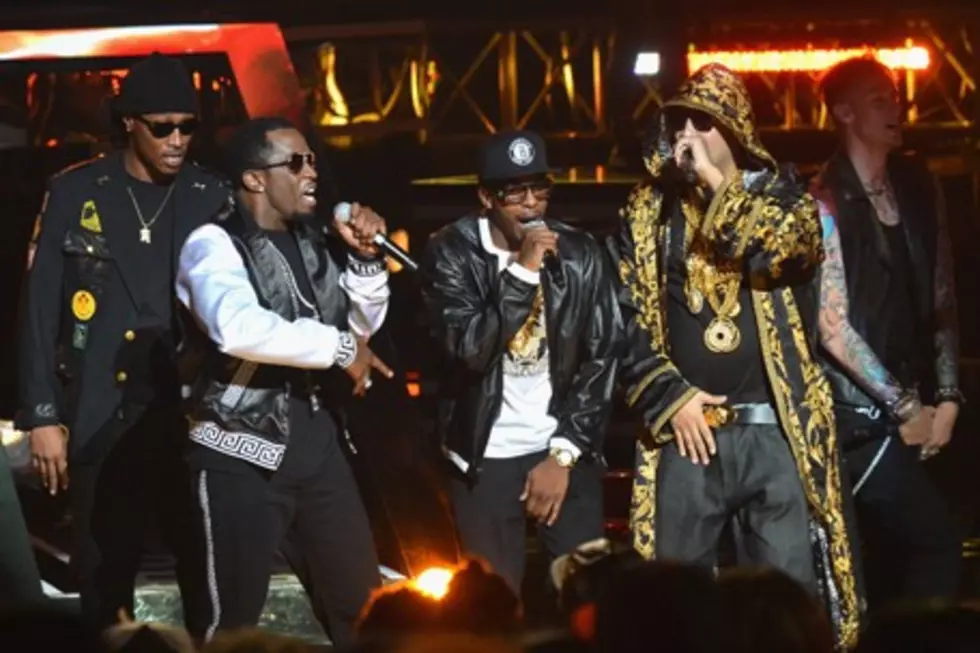 Future, Diddy BET Hip Hop Awards 2012: Machine Gun Kelly, French Montana Rep for Bad Boy — Video
Rick Diamond, Getty Images
As "Turn On the Lights" becomes the No. 1 rap song in America, according to chart position, rapper Future performed the Mike Will-produced hit during the 2012 BET Hip Hop Awards Tuesday night (Oct. 9). He took center stage then was joined by a slew of Bad Boys.
The southern spitter went into his next smash, "Same Damn Time," and was immediately joined by Diddy, who appears on the remix. The Bad Boy Records founder grooved onstage with some added pyrotechnics for good measure.
Machine Gun Kelly made a bold entrance through the air, as he was lowered down on a rafter. He rapped through his "Wild Boy" track and ran to the balcony to perform closer to his fans. MGK climbed up on a railing before joining Diddy and Future.
French Montana showed up to close out the set, rhyming through his hit "Pop That." While Drake, Lil Wayne and Rick Ross weren't there to perform their verses, Montana held down the show and had all eyes on his neck, where he had more than a dozen gold chains hanging.

Watch Future, Diddy, Machine Gun Kelly & French Montana Perform at the 2012 BET Hip Hop Awards


See 15 of the Best Hip-Hop & R&B Albums of 2012 (So Far)