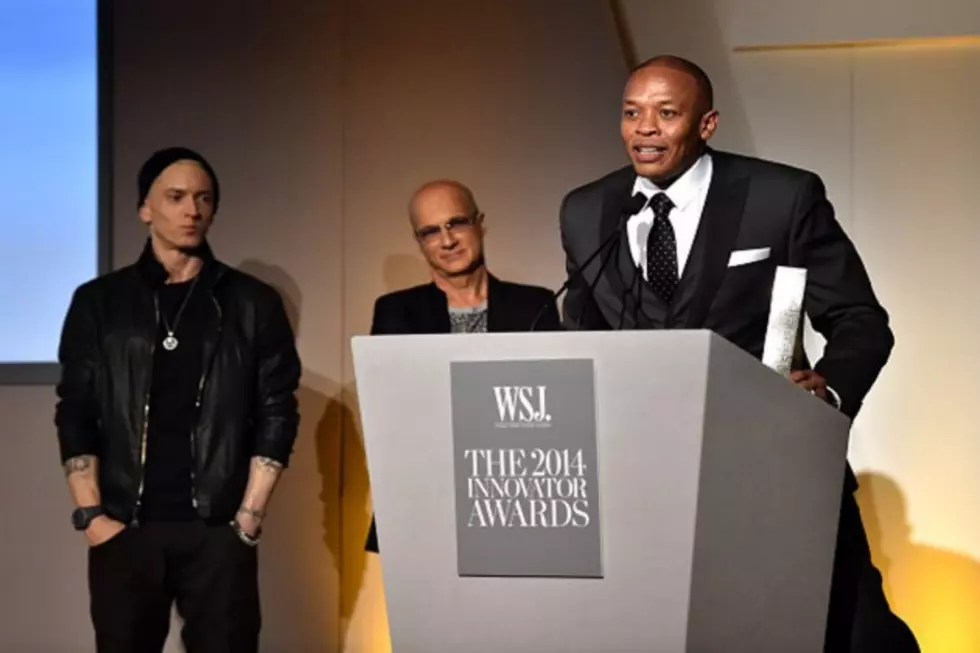 Eminem Honors Dr. Dre and Jimmy Iovine at Wall Street Journal Magazine's 2014 Innovator Awards
Mike Coppola, Getty Images
Eminem hates public speaking but the rapper stepped out of his shell to show love and respect for Dr. Dre and Jimmy Iovine at the Wall Street Journal Magazine's 2014 Innovator Awards. Slim Shady traveled to New York Wednesday night (Nov. 5) to give a speech, in which he shared his admiration for the two moguls.
"Dre and Jimmy are like a force of nature," he said in his speech. "As an example of how powerful they are, they had me fly here all the way from Detroit to speak publicly, and I really hate public speaking."
Now that Dre and Iovine have made a fortune selling their Beats brand to Apple, their next venture will seek to guide young entrepreneurs, as they started a new academy at the University of Southern California. Iovine says it's exactly what the music business needs.
"We wanted to build a school that we feel is what the entertainment industry needs right now," he said. "There's a new kid in town, and he's brought up on an iPad from one and a half years old. But the problem with some of the companies up north is that they really are culturally inept. I've been shocked at the different species in Northern and Southern California, we don't even speak the same language."
Em revealed in his speech that he has tremendous confidence in both his mentor and Iovine when it comes to launching the academy. "When Jimmy and Dre put their minds to something, get on board or get the f--- out of the way," he stated.
Watch Eminem's Speech Dedicated to Dr. Dre & Jimmy Iovine