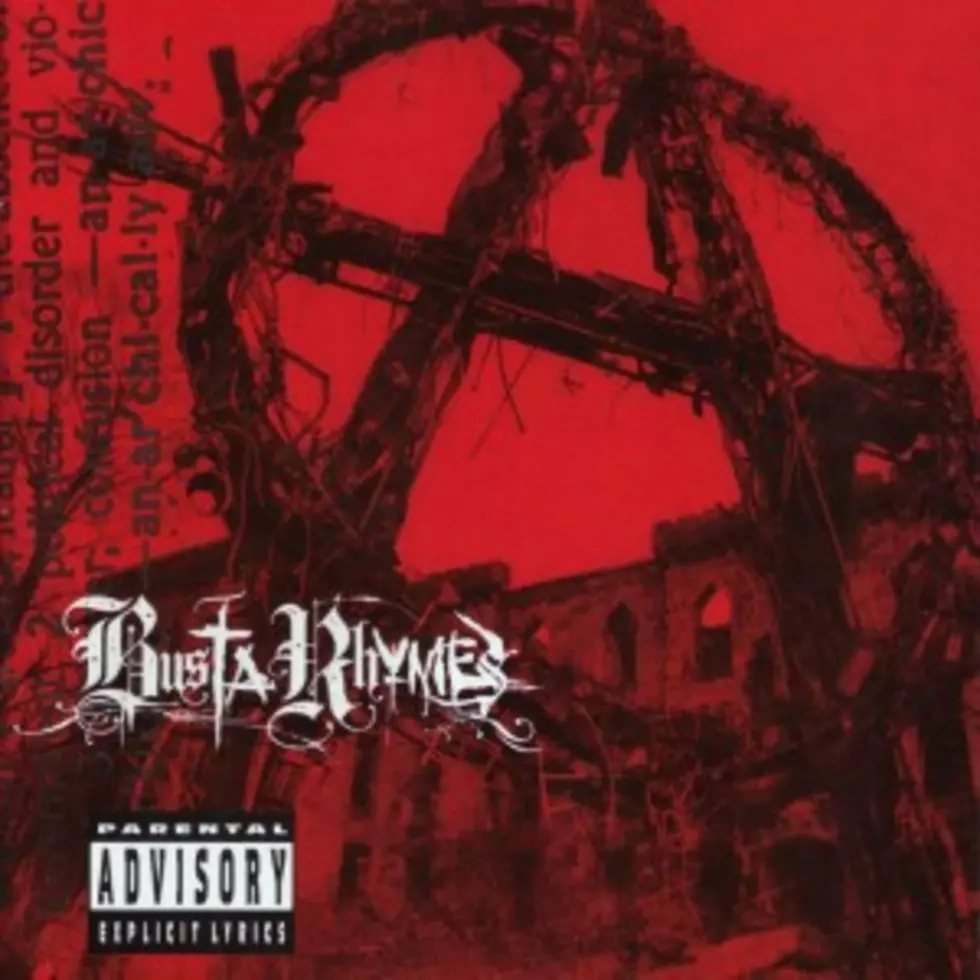 Five Best Songs From Busta Rhymes' 'Anarchy' Album
Elektra
Busta Rhymes may be one of the more tenured artists still making waves in 2015, but with nearly 25 years in the rap game, Busta Rhymes has been considered a veteran for quite some time. Making his debut in 1991 as part of Leaders Of The New School, the group's album, A Future Without A Past..., failed to catapult them to star status, but an appearance on the classic A Tribe Called Quest posse cut, "Scenario," boosted their profile, most notably Busta's due to his epic verse that would eventually go down as one of the most indelible moments on wax in rap history.
Deciding to go solo after the release of Leaders Of The New School's second and final album, T.I.M.E., Busta proceeded to confirm his star potential with his debut album, The Coming, earning a platinum plaque and a Grammy nomination for his efforts. More platinum albums and award nominations would soon become the norm and after the release of his third LP, 1998's E.L.E. (Extinction Level Event): The Final World Front, Busta Rhymes was one of the biggest personalities in hip-hop and beloved for his animated presence as well as having some of the dopest and expensive music videos in the game.
Known for his apocalyptic-themed albums, the Brooklyn, N.Y. rhymer decided to fourth solo album, Anarchy, which coincided perfectly with the abundance of conspiracy theories surrounding the Y2K phenomenon and talk of what the new millennium would bring and who better to conceptually mold a rap LP around chaos than Bussa Buss?
Talks of the world's demise may have been a bit premature and we may have made it to the year 2000, but we were still blessed with Anarchy, which touched down on June 20, 2000. While lacking a hit single on the caliber of those featured on previous albums, Anarchy was deemed a commercial success. The LP debuted at No. 4 on the Billboard 200 album chart and reaching platinum status in a relatively short time.
On the 15th anniversary of its release, we gave Anarchy a spin and selected five tracks from the album that still sound fresh today as it did 15 years ago.
5

Busta Rhymes spits on the Scott Storch-produced "Bladow!!," which sees the veteran MC sounding invigorated and more than up to the task of busting a rhyme or two. "Now, ready for wildin', my n----s / Let's set it like we on the Island, my n----s, I'm wit it," he raps. Flowing over the tumbling drums and festive keys provided by Storch with the nuance of a skilled wordsmith, the Flipmode general is in go-mode on this outing and turns in one of the more memorable songs on Anarchy.

4

Producer Nottz proved to be an invaluable addition to the list of producers that landed placements on Anarchy, turning in three beats that all were among the illest tracks included on the album. One of these cuts was the closeout title track, which ends the LP off on a positive note. Aside from the cryptic production, Bussa-Buss is hitting on all cylinders as well, dropping dope couplets and flowing fluidly without sacrificing an ounce of aggressiveness in the process.

3

Busta Rhymes turns in a delightful banger with the exuberant Anarchy track, "Get Out." Produced by Nottz, the beat contains jittery drums and a vocal sample lifted from The Richard Wolfe Children's Chorus' 1951 release, "The Ugly Duckling."  The sonically addictive cut may get lost in the shuffle, but it's still quite a potent track of beats and rhymes.

2

"Ready For War"

Featuring M.O.P.

Flatbush meets Brownsville when Busta Rhymes teams up with M.O.P. on the grimy ditty, "Ready For War." Produced by Busta himself, the beat is triumphant in sound and features a sample of French musician Serge Gainsbourg's classic number "L'Homme a Tete de Chou" that compliments the study drums perfectly. While Busta can usually blow the average MC away with his high-octane energy alone, M.O.P.'s Billy Danze and Lil Fame are equally lively, making for what is an amped-up affair that should prompt the faint of heart to tuck their chain in off the sheer thuggery displayed on this cut.

1

"The Heist"

Featuring Ghostface Killah, Raekwon & Roc Marciano

Things get cinematic on the riveting Anarchy selection, "The Heist." Putting together a team of henchmen consisting Ghostface Killah, Raekwon, and Roc Marciano, Busta Rhymes draws up the blueprint for a high-stakes robbery with a little help from his comrades. Produced by Large Professor, the track is reminiscent of a rainy New York City night and features crying violins and murky drum kicks and snare, making for one of the more stripped-down tunes on the album. The trio come correct, most notably a then-young Roc Marciano, who has since become one of the more critically acclaimed indie rap artists 15 years later.