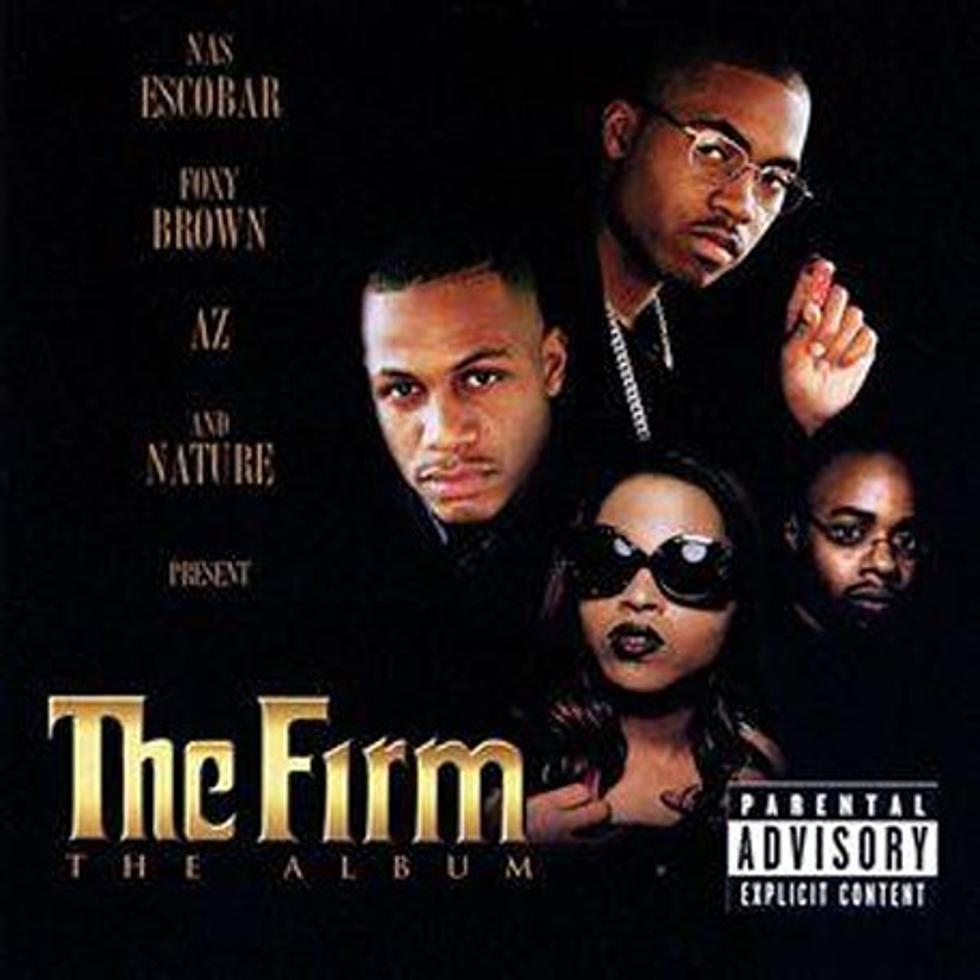 The Firm's 'The Album' 15 Years Later: AZ Speaks on Group's First & Final Project
YouTube
Hip-hop heads refer to the mid-'90s with reverence. Rap producers had the Midas touch and MCs were steadily establishing a base in the commercial industry. Nas, AZ and a young Foxy Brown were all celebrating tremendous success as solo artists, so their natural inclination was to form a supergroup based on an idea Nas and AZ had been tossing back and forth for years, as heard on Nas' "Affirmative Action."
With the inclusion of Fox Boogie and the honorary placement of Nature (replacing the ousted Cormega), in 1997 The Firm went on to record their first and only LP for Aftermath/Interscope, aptly titled The Album.
In celebration of the 15th anniversary of The Album, which was originally released Oct. 21, 1997, The BoomBox spoke with AZ about his most memorable experience as part of The Firm, his favorite tracks and the possibility that we'll ever hear a follow-up from the group.
"My most memorable experience while recording The Firm album was while doing 'Phone Tap,'" AZ explains. "Everybody was in the studio, and Dre was running through a couple of beats. That particular one he picked for 'Phone Tap,' I heard and started writing to it.
"I came up with the actual title, but I had no idea about making it sound like we were on the phone, so when Dre did that shit, that shit was just crazy to me. If you listen to it, it has the static just like it would be if you were on the phone. The beeping ... just like if you were on the phone. I thought that was kinda fitting, you know. We all were just vibing, so nobody knew what the next step was. It was just like, 'Yo, this is an idea to lay these verses down.' We did our part and Dre did his part."
Discussing his favorite tracks from the album, the Brooklyn MC names both singles, and one surprising cut. "I got like two or three favorite joints off the album. To me, 'Firm Biz' was my joint. The video made it exciting for me, and with Dawn [Robinson] from En Vogue? That made it live. Then, 'Phone Tap,' because Dre was involved, and the last song 'Throw Your Guns,' with me and my man Half-A-Mil. That was my joint. That was my dude, he passed away."
As for the group's genesis, AZ explains that the concept had been kicking around for a while before they decided to partner with Foxy. "It started with me and Nas talking about an idea, The Firm Volume 1- Mo Money, Mo Murder. It was always an idea, and then at that time, everybody popped off. You know, Nas had come out and he did what he did. Then I came out in '96, just before that, I had 'Sugar Hill' out and my album Doe or Die, so it was all good. Then Foxy [Brown] came out around the same time, so everybody was in their own zone.
"What's crazy is that in the beginning, it got a little hectic getting to the studio, because everybody was holding their own ground, doing their own thing. We were individuals trying to come together as a group when everybody was popping. So it was crazier than you could imagine," he continues. "I mean, [Foxy] was popping! So it was all good. The Nature and Cormega situation -- those were Nas' people that he was bringing to the table. I met them through him, so that was more of a problem than anything because they were both trying to be a part of what me and Nas had initially put together.
"We had all the managers involved, and we were all signed to different labels so it was label people involved. [Recording] was more hectic than anything. Then, Dre's schedule too, everybody was touring ... So, it woulda been live to do another album, but to get that one done ... It was hectic within itself."
Regarding the possibility of releasing a follow-up 15 years later, AZ says "everybody's cool," but focused on their projects.
"I just spoke to Foxy like two to three months ago. Everybody's cool. We all reach out, there's no bad blood. We all grown and what not, so it's cool," he revals. "She's trying to do her thing now. She told me that she's doing some work with Nicki Minaj and Nicki more or less... Well, I don't wanna let it out the bag [laughs]!
"I had to catch myself. But she's been working with Nicki which is a good look. You know Nas' album [Life Is Good], just came out and he's doing him. I'm trying to wrap up my Doe or Die 2 album, so I'm working. So hopefully, we can make it happen again -- one more time. But if not, it was a great experience."
Watch The Firm's "Firm Biz" Video


See The BoomBox's Hip-Hop for Dummies Guide
%VIRTUAL-MultiGallery-168286|164554|168579%