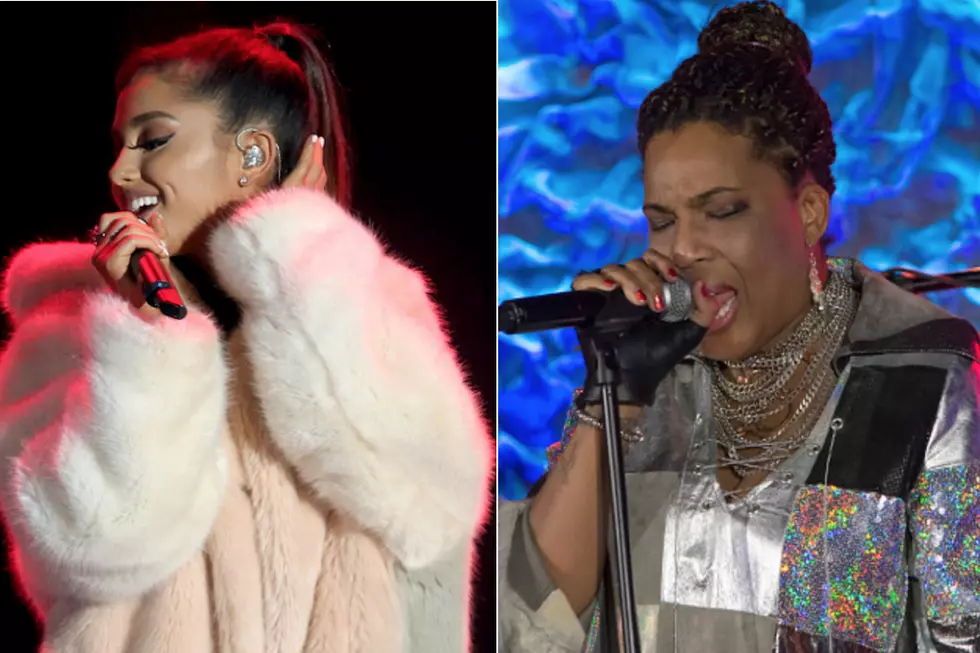 Ariana Grande Is a Jilted Lover on 'Leave Me Lonely' Featuring Macy Gray
Frederick M. Brown / Steven Henry, Getty Images
Ariana Grande is back with another memorable and unexpected collaboration in her new song "Leave Me Lonely." This time, she tapped Macy Gray to add a powerful feature to the soulful love ballad.
Gray's strong baritones open the song with theatrical crescendos and what sounds like a choir-chorus humming in the background. "Leave Me Lonely" might me one of the most powerful tracks off her upcoming album Dangerous Woman, which hits stores on Friday (May 20).
Giving us all kinds of Nina Simone vibes, Macy belts out "Dangerous love / You're no good for me darling / Yeah you turned me away / Like I'm begging for dollars / Dangerous...how you hold me / I get a chill inside and nothing frightens me baby."
The pop princess obviously tapped Gray for her distinctive husky voice because she sends us on a bit of a rollercoaster with some haunting notes of despair and passion. The song's narrative is told from the point of view of an estranged lover.
Before the song's 'Beats 1' premiere, Grande praised her collaborator Macy Gray calling her a "legend."
"Her voice is so beautiful and soulful," said Ariana said while confirming "Leave Me Lonely" holds a special place in her heart.
Listen to Ariana Grande's Song "Leave Me Lonely" Feat. Macy Gray