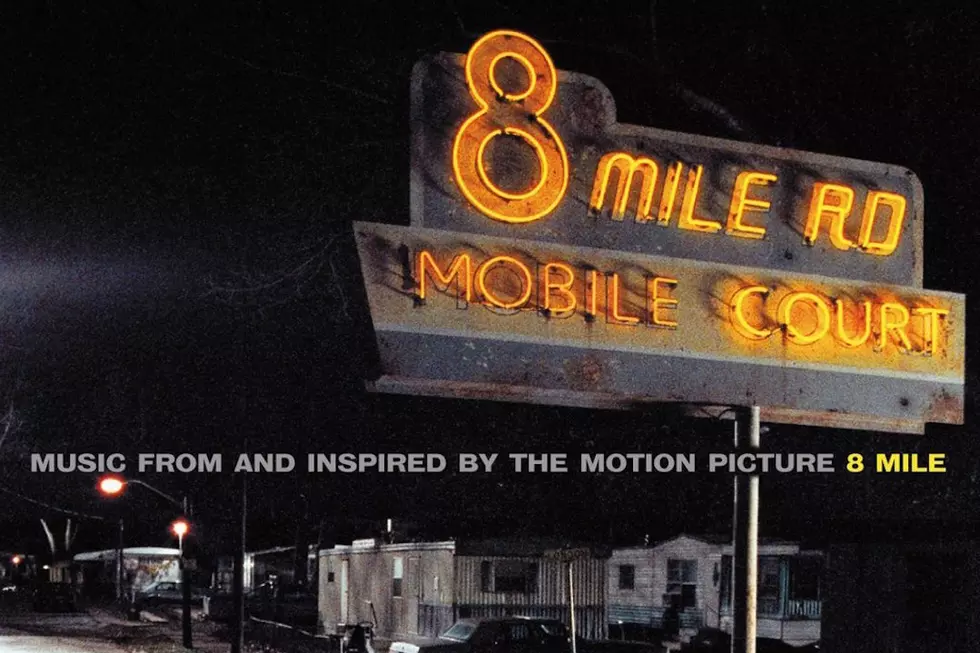 5 Best Songs from the '8 Mile' Soundtrack
Shady Records
Aside from being a celebration of cultural and youthful expression, one of the more fruitful aspects of hip-hop is it being a pathway and conduit to other opportunities to better one's self or circumstances. With their charisma and star-power, rap artists have been able to transition into the world of Hollywood, a trend that began in the '80s before exploding during the 90's, with over a dozen rappers enjoying lucrative careers as thespians. So in 2002, when it was announced that Eminem, the biggest rap star on the planet, would not only be making a foray into acting, but would be playing the lead role in a movie based on his life, it was less of a surprise and more of an anticipation of what to come.
And Eminem did not disappoint, putting forth a film that was a critical and commercial success, grossing $242,875,078 worldwide, and falling in the Top 10 of many critic's picks for the best films of 2002. In addition to the actual movie, the knowledge that their would be a soundtrack accompanying the film that would include music from Shady/Aftermath artists, including new recruit 50 Cent and Eminem himself, also increased the hype around the film, with many eager to hear what Em and company would cook up. The result was a collection of songs that encapsulated the spirit of 8 Mile, as well as helped further familiarize the world with Shady's roster of artists. The album was not solely a family affair, with the likes of Jay-Z, Nas, Macy Gray, and others also appearing throughout the album. With over five million copies sold in the U.S. to date, the 8 Mile soundtrack continued Eminem's reign as rap's most bankable star and is remembered as a defining moment in his career.
Fifteen years after it's release, we gave the 8 Mile soundtrack a spin and selected five songs that have made an impact and stood the test of time.
5

Rakim, arguably rap's most influential lyricist of all-time, made a big splash when he announced that he was joining the Aftermath Records roster in 2000, leaving rap fans salivating at the thought of a Dr. Dre-produced Rakim album. Although The R and Dre were unable to get on one accord creatively, resulting in Rakim breaking ties with Aftermath in 2003, this Denaun Porter-produced contribution to the 8 Mile soundtrack slaps enough to leave fans pondering what could've been.

4

"Rap Game"

D12 featuring 50 Cent

Being under the wing of a megastar like Eminem can prove to be burdensome, but his group of Detroit emcees, D12, rose to the occasion time and time again, with the 8 Mile soundtrack cut "Rap Game" being one of those instances. Co-produced by Denaun Porter and Eminem, and featuring an appearance from 50 Cent, "Rap Game" includes a barrage of heady verses from the dirty half dozen, and is among the more potent deep cuts on the soundtrack.

3

Prior to 50 Cent and G-Unit eviscerating this beat, Eminem unleashed his fury on it for the soundtrack to his debut motion picture, 8 Mile. Serving as the title track, "8 Mile," which was also produced by Eminem himself, is a display of his otherwordly rhyme skills and ability to slaughter a beat with the guile and precision of a marksman.

2

After spending much of 2002 dominating the streets with a succession of classic mixtapes, 50 Cent took his grind mainstream by inking a million-dollar deal with Shady/Aftermath Records that same year, instantly making him the most buzzworthy artist in rap. Originally released as a mixtape cut, "Wanksta" was tacked onto the 8 Mile soundtrack and pushed as a single, with a video poking fun at Murder Inc. rapper Ja Rule. The song, which peaked at No. 13 on the Billboard Hot 100, would be the calm before the storm that was 50 Cent's eventual takeover the following year.

1

All iconic rappers have those defining verses that set them apart from mere rap mortals, and Eminem's opening stanza on "Lose Yourself" is a clear example of when excellence becomes transcendent. Peaking at No. 1 on the Billboard Hot 100, Eminem's first single to achieve that feat, and earning him hardware at the Oscars, where he won Academy Award for Best Original Song, the first rap song to ever receive that honor, "Lose Yourself" is regarded as one of the greatest songs of all-time, regardless of genre. Sweaty arms and mom's spaghetti never sounded so appealing.