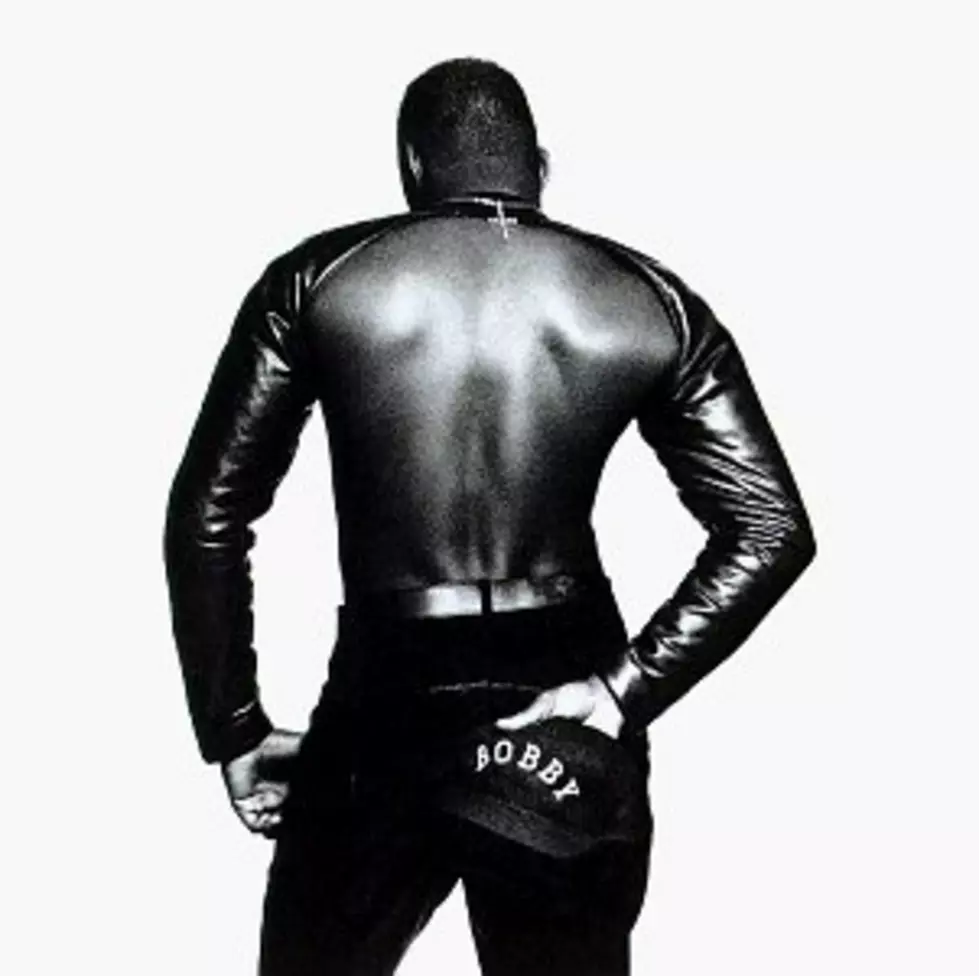 5 Best Songs from Bobby Brown's 'Bobby'
MCA
Once upon a time, Bobby Brown was one of the more dynamic performers of his time and a bonafide megastar. Long before becoming known more for his reality TV exploits and the tabloid fodder surrounding his name, the Boston native was a hitmaker of the highest order, with some of the most timeless R&B songs of the '80s, first as a member of pioneering boy band New Edition, and later as a chart-topping solo act.
A founding member of New Edition, Bobby Brown appeared on the group's first three albums and sang co-lead on multiple hit songs, including "Mr. Telephone Man," but would ultimately cut ties with the group to pursue a solo career, debuting in 1986 with King of Stage. That album would be deemed a commercial disappointment, leading Brown to revamp his sound for his sophomore release, Don't Be Cruel, which touched down in 1988. Boasting production from A-List boardsmen and songwriters like Teddy Riley, Kenneth "Babyface" Edmonds, and L.A. Reid, Don't Be Cruel would be a massive success, selling over seven million units in the U.S. alone and finishing 1989 as the best-selling album of that year.
Christened as one of the kings of New Jack Swing, an edgy sub-genre that would prove to be influential and usher in a new era of artists, Bobby Brown's reign would extend into the new decade. However, more than four years would pass between the release of Don't Be Cruel and Bobby Brown's self-titled third studio album, which arrived in August 1992. Coming on the heels of a world-tour string of collaborative efforts, as well his highly-publicized marriage to Whitney Houston, and multiplatinum solo success for each of his former New Edition bandmates, Bobby would be subject to high expectations, with many questioning the singer could rival the success of his previous effort.
Ultimately, while Bobby's commercial performance was underwhelming in comparison to its predecessor, it marked a maturation in Brown's sound while simultaneously helping to bookend the other side of the New Jack Swing era. In celebration of its 25th anniversary, we highlight five of the best songs from Bobby.
5

Being one of the hottest acts in all of music and a lightening rod for controversy can wear on the most brash celeb, a sentiment that is expressed on the Bobby Brown cut "Get Away." Treading similar ground to his 1988 hit "My Prerogative," "Get Away" sacrifices what it lacks in defiance with insight and perspective, as the crooner appears intent on getting away from the drama than running toward it. Produced by Teddy Riley, "Get Away" is among the superior offerings on Bobby.

4

"Something In Common"

Bobby Brown featuring Whitney Houston

After shocking the world by tying the knot in July 1992, newlyweds Bobby Brown and Whitney Houston unleashed their first and much-anticipated collaboration, "Something In Common," one of the singles from Brown's self-titled sophomore album. Produced by Teddy Riley, "Something in Common" contains a sample riff of "Want to Be With You" by Zan, and falls in step with the upbeat nature of the album as a whole. "A bird in the hand beats two in the bush/But just one look was all it took," Brown sings, while Whitney lays down her powerful alto, as the two combine for a duet for the ages.

3

"Two Can Play That Game"

Bobby Brown

"Lately you've been acting mighty strange/To me it seems your attitude has changed," Bobby Brown accuses on "Two Can Play That Game," an uptempo number in the mold of the classic New Jack Swing style. Produced by Teddy Riley, who previously lent his midas touch to Don't Be Cruel, contributes a pulsating soundscape for Brown to maneuver, which he does with ease, delivering one of his strongest performances on the record. Featuring a sample riff of Sly & the Family Stone's "Sing a Simple Song," and background vocals from future members of r&b quartet Blackstreet, "Two Can Play That Game" is an essential selection.

2

Written and produced by L.A. Reid, Babyface & Daryl Simmons, "Good Enough," the second single released from Bobby, serves as a melodic counter for the more uptempo singles that litter the album. Taking a more tender approach, Brown puts his bad boy persona to the wayside on "Good Enough," placing himself in a position of submission and vulnerability that gives the song an element that's endearingly sentimental. A surprise hit on the Billboard charts, peaking at No. 7 on the Hot 100, "Good Enough" may be one of the more underrated singles from Bobby Brown's stash of classics.

1

"Humpin' Around"

Bobby Brown

Following the string of hit singles that helped make his debut album the best selling album of 1988, Bobby Brown was expected to deliver a monstrous jam in anticipation of his long-awaited self-titled sophomore release. Teaming up with producers Daryl Simmons, Babyface & L.A. Reid, the King of R&B would respond with "Humpin' Around," an in-your-face denial of any philandering or infidelity on his part, lamenting "When you trust someone and you know you're on their back/You ain't got no trusting about you." Peaking at No. 3 on the Hot 100 and topping the r&b chart, "Humpin' Around" was yet another home-run for Brown, and is one of the more memorable moments fans have of the star at the top of his game.