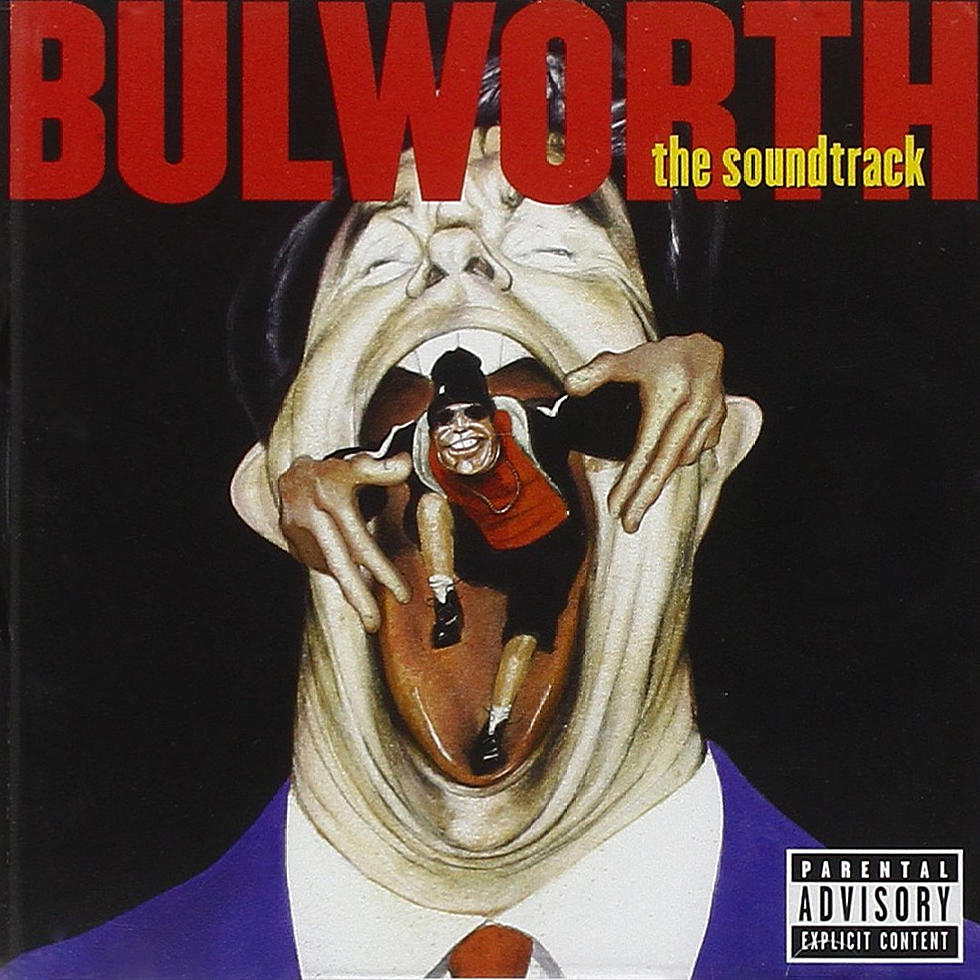 20 Years Later: The Bulworth Soundtrack Is Underrated
Interscope
For anyone that was of age to experience it, 1998 was a magical moment in time thanks to a number of highlights and events that would help shape pop culture and create a new era of superstars. This was particularly true in hip-hop, as the culture would put forth a collective effort to move past the tragic-filled years of 1996 and 1997 with some of the best music rap fans had heard in quite some time. When waxing poetic about 1998, many fans fixate on the succession of landmark albums that would prove to be career-defining efforts for their authors, but one project that ranked among the best and fails to get it's just due is Bulworth: The Soundtrack.
Released in support of the 1998 political comedy starring Warren Beatty, Halle Berry, Oliver Platt, Don Cheadle, Paul Sorvino, Jack Warden, and Isaiah Washington, Bulworth arrived near the end of the renaissance days for soundtracks catering to the hip-hop and R&B community, but ultimately rivals the best of them with a murderers row of hit singles, blockbuster collaborations and unsung classics. In addition to the music, Bulworth would be pivotal in helping launch the careers of a number of rap and R&B artists and put them on the national radar. Furthermore, the soundtrack showcased the skills of veteran acts looking to test their mettle in an ever-evolving genre.
To kick off the proceedings, rap elders LL Cool J and Dr. Dre trade couplets on "Zoom," an introductory cut which pairs the Compton maestro and producer Chris "Glove" Taylor's refined grooves with Uncle L's cocksure bravado, with winning results. The one instance of the two legends combining their talents, "Zoom" continued LL's hot streak during the latter half of the '90s, but would come at a time of creative turmoil for Dr. Dre, who was reeling from a pair of disappointing releases with his The Aftermath compilation and The Firm album. However, "Zoom" would be the first signs of a return to form for Dr. Dre, who would use the collaboration as momentum toward building the beginnings of the Aftermath dynasty.
Speaking of LL Cool J, 1998 would also be the year that he and newcomer Canibus would lock horns following the upstart's appearance on LL's posse cut "4,3,2,1," which ended with the Queens legend taking him to task over a perceived slight during his closing verse. Prior to Bulworth's release, Canibus put the rap world in a state of pandemonium with "Second Round K.O.," a diss record responding to LL, accompanied by an epic music video featuring Mike Tyson.  However, the buzz surrounding the record would overshadow the brilliance of "How Come," a collaboration between Canibus and Senegalese singer/songwriter Youssou N'Dour. Produced by Jerry Duplessis, Wyclef Jean & Canibus, "How Come" captures Canibus in an analytical frame of mind, musing "Yo, as the universe expands/I contemplate whether it was God or the Big Bang that made man," while N'Dour delivers heartfelt vocals throughout, his impassioned wails complimenting his co-star's rhyme spills and serving as an instrument in itself. Built around a sample of "I'm the Toughest" by Peter Tosh and littered with measured percussion and acoustic guitar riffs, "How Come" is indicative of Canibus' lyrical guile during his early ascent and a powerful, yet oft-forgotten collaboration.
In an era rife with posse cuts pitting rap's most formidable emcees against each other, the Bulworth soundtrack offered up one for the ages with "Bulworth (They Talk About It While We Live It)." An urgent meeting of the minds over airy production, courtesy of DJ Muggs, the son featured Method Man, KRS-One, Prodigy and Kam, four spitters that put forth impressive stanzas that run the gamut from critical to political and puts rewind buttons to work. Crime capers occur on Bulworth as Wu-Tang Clan reps RZA and Cappadonna's respective contributions, "The Chase" and "Run," but two of the more intriguing cuts on the soundtrack were "Eve of Destruction" and "Joints and Jams," which would prove pivotal in the careers of Eve and The Black Eyed Peas.
Prior to her star-turn as a member of the Ruff Ryders, the "Pitbull in a Skirt" got her start in the music industry under the guidance of Dr. Dre and Aftermath Records. Her first release was "Eve of Destruction," a track from the Bulworth soundtrack that showcases her promise as an emcee. Produced by Mel-Man and featuring a sample of "Yes We Can-Can" by Treacherous Three, "Eve of Destruction" would initially be an afterthought, but is notable for being the Philly native's sole release as a member of the Aftermath family, as she would find a home with Ruff Ryders by year's end. After appearing on a succession of high-profile remixes, Eve unleashed her double-platinum debut album, Let There Be Eve…Ruff Ryders' First Lady, which would be the third album by a female rap artist to top the Billboard 200, in 1999.
Another act that would gain traction as a byproduct of the Bulworth soundtrack was The Black Eyed Peas, who were looking to infiltrate the industry with a change of pace after a stint as the Atban Klann on Eazy-E's Ruthless Records. Returning as Black Eyed Peas in December 1997 with their double-single "Fallin' Up/¿Que Dices?," The Black Eyed Peas would further put themselves on the rap radar with "Joints and Jams," the trio's contribution to the Bulworth soundtrack and a song that would generate a moderate buzz for the group. Produced by will.i.am and Paul Poli, and containing a sample of Greg Phillinganes' "Love Till the End of Time," "Joints and Jams" includes three heady verses from Black Eyed Peas, while singer Ingrid Dupree's silky vocals make the track an even more infectious groove. On June 30, 1998, just two months after the release of the Bulworth soundtrack, Black Eyed Peas released their debut album, Behind The Front, which would be a critical success, but a commercial failure. However, the group would crossover into the mainstream with their third studio album, Elephunk, in 2003 and have since sold an estimated 76 million records to date.
At a time when new blood was getting infused into the rap game, one veteran act that displayed staying power amidst the changing of the times was Public Enemy, who made waves with their contributions to the He Got Game soundtrack in 1998. Public Enemy appeared on the Bulworth soundtrack with the track "Kill Em Live," a fiery inclusion where Chuck D doles out his signature brand of political commentary. With bars like "All I wanna do is get paid back/For all that time I spent in the back" and a chaotic backdrop produced by Gary G-Wiz, the song ended the soundtrack on a high note. The Bulworth soundtrack has no shortage of material that is sure to pique the interest of any hip-hop head, one song on the tracklist that would catch wildfire is "Ghetto Superstar," an upbeat ditty from Pras Michel, Ol' Dirty Bastard, and Mya that would soundtrack the summer and dominate radio upon its release.
Following the splintering of the Fugees following The Score, Pras would prep his debut album, Ghetto Supastar, which would be released in October 1998, but would be preceded by the hit title-track. Along with being Pras' debut single as a solo artist, "Ghetto Supastar" is also responsible for helping to launch the career of R&B artist Mya, who released her own eponymous debut just days prior the Bulworth soundtrack hitting shelves. Lending her saccharine vocals for the song's hook, Mya's addictive refrain would become an anthem of sorts and become part of the pop culture lexicon and remains one of the more memorable moments in her career to date. Anchored by a verse from the Ol' Dirty Bastard, "Ghetto Supastar" would be a massive hit, peaking at No. 15 Hot 100 and receiving a nomination for Best Rap Performance by a Duo or Group at the 41st Grammy Awards.
When listing the most explosive soundtracks of the '90s, names like New Jack City, Above The Rim, New Jersey Drive, Belly, and others often dominate the conversation, but Bulworth: The Soundtrack is as good, if not better than all of those releases and continues to stand the test of time. Reaching platinum certification and debuting at No. 10 on the Billboard 200, Bulworth balanced commercial success with true school hip-hop values and remains among the more underrated soundtracks in hip-hop history 20 years later.