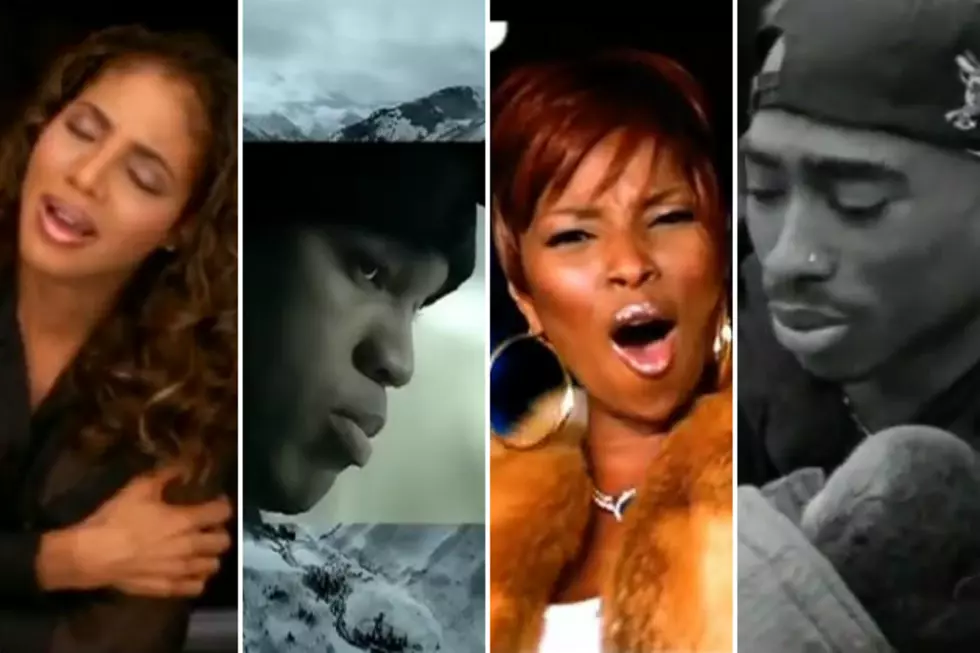 YouTube
Every story doesn't have a happy ending, but hip-hop and R&B stars have never been afraid to rap or sing about the blues. Over the years, artists have revealed raw stories of their struggles in the form of unforgettable songs. Ghostface Killah raps about growing up in poverty, Tupac Shakur witnesses a woman never making it out of the hood due to a string of bad decisions and Mary J. Blige shares her tales of battling depression while in the public eye. Then there are others who sing of unrequited love and clearly use their music as a way to vent about the heartbreak they experience. We highlight 10 Saddest Songs from rappers and singers who aren't afraid to express some emotion. Prepare for the waterworks.
1

'All That I Got Is You'

Ghostface Killah

Life for Ghostface Killah was far from easy street as described in his song 'All That I Got Is You.' The track is dedicated to his mother, who struggled to raise him and his siblings after their father left them. "Check it, 15 of us in a three bedroom apartment / Roaches everywhere, cousins and aunts was there / Four in the bed, two at the foot, two at the head," he raps. The imagery depicted in the song reminds us we should be thankful for what we do have. If you can relate to Ghostface's ups and downs, this track reminds you you're not alone.

2

'I'll Be Missing You'

Diddy

After the murder of Notorious B.I.G. on March 9, 1997, Diddy built up his strength and created the moving ode 'I'll Be Missing You' featuring Faith Evans. Losing a best friend isn't easy, and Puffy was able to find the right words to express his feelings regarding the sudden death of his good friend. "Give anything to hear half your breath / I know you still livin' your life after death," he raps. The world mourned with Bad Boy as the song went No. 1 in more than a dozen countries.

3

'Brenda's Got A Baby'

Tupac Shakur

From day one, Brenda's life has been spiraling off course, Tupac raps on 'Brenda's Got A Baby,' which makes it onto our 10 Saddest Songs list. Her family doesn't love her so she looks for acceptance in a family member who gets her pregnant and leaves her before she delivers her newborn. "She had it on the bathroom floor / And didn't know so, she didn't know, what to throw away and what to keep," Pac rhymes on the song. Deep down, you want Brenda to find a fairy godmother who will sweep her away to a better existence, but her life instead comes to a tragic end when she is slain.

4

'Where I Wanna Be'

Donell Jones

Donell Jones wants to be the good guy to his girlfriend but he's afraid his wandering eyes may get him in trouble soon. 'Where I Wanna Be' is a sincere explanation of these conflicting feelings. "She doesn't fully understand me / That I'd rather leave than to cheat," he croons. Relationships aren't always perfect, so we give him credit for thinking this one through, even though leaving "baby girl" a message and jetting out the blue will leave her extremely hurt.

5

'Deep Inside'

Mary J. Blige

Mary J. Blige lets us know that fame comes with a price on 'Deep Inside.' "It's the car I drive, the clothes I wear / The diamonds, the furs, and the house / Don't make the woman," she sings. Her friendships and relationships have suffered and the judgement she's endured while being in the public eye has taken a toll on her. You want to hug the singer as she screams out, "I'm just Mary" as the song comes to its finale. When artists often sing of material possessions as if they mean the world, Mary just keeps it real and let's us know it's all a facade.

6

The lonely feeling after going through a heartbreak can be unbearable and it seems Keyshia Cole was finally ready to wear her emotions on her sleeve in the song 'I Remember.' "Didn't know where I would go, where I would be / But you made me leave," the songstress belts out. Cole concludes that her self-love is more valuable than killing herself just to be let down time and again in a viscous cycle.

7

'Un-Break My Heart'

Toni Braxton

You can't listen to 'Un-Break My Heart' without feeling almost guilty about the pain Toni Braxton is going through on this track. She can't let go and wants her old lover to pick up the pieces of her broken heart -- a true marker of one of the 10 Saddest Songs. "Take back that sad word goodbye / Bring back the joy to my life / Don't leave me here with these tears," she begs. This is definitely not the song to have on rotation if you're really trying to heal.

8

Lauryn Hill wants to walk away from the battles with her on and off again man, but she loves him enough to stick around. This roller coaster ride has her emotions in a firestorm. "Tell me, who I have to be / To get some reciprocity," she requests. Towards the end of 'Ex-Factor,' the Fugees member realizes that she's a bit insane for this repeated behavior and things are catching up to her. Love shouldn't hurt this much.

9

'Thinking Bout You'

Frank Ocean

There comes a point when you accept that an old fling or relationship is over, at least for now. However, the idea of the romance coming back around in the future gives some hope. Frank Ocean gives into these thoughts on 'Thinking Bout You.' But he also keeps it real that he could be dreaming too big. "Or do you not think so far ahead? / 'Cause I been thinkin' 'bout forever," he admits. This track will have you regretting the one that got away.

10

Months have gone by and Ne-Yo is still haunted by the memory of his ex-girlfriend. The singer makes a smart move to change his answering machine message, which features a recording of himself and his boo. If there's one lesson to learn from this 10 Saddest Songs list, it's to get rid of all reminders of a relationship that once was. Ultimately, the reason he can't ditch the breakup blues is because of the love songs that keep bringing back memories. "I'm so fed up with my thoughts of you / And your memory / And how every song reminds me / Of what used to be," he sings. Ne-Yo needs a pack of tissues for this one because he's leaving a trail of tears everywhere.