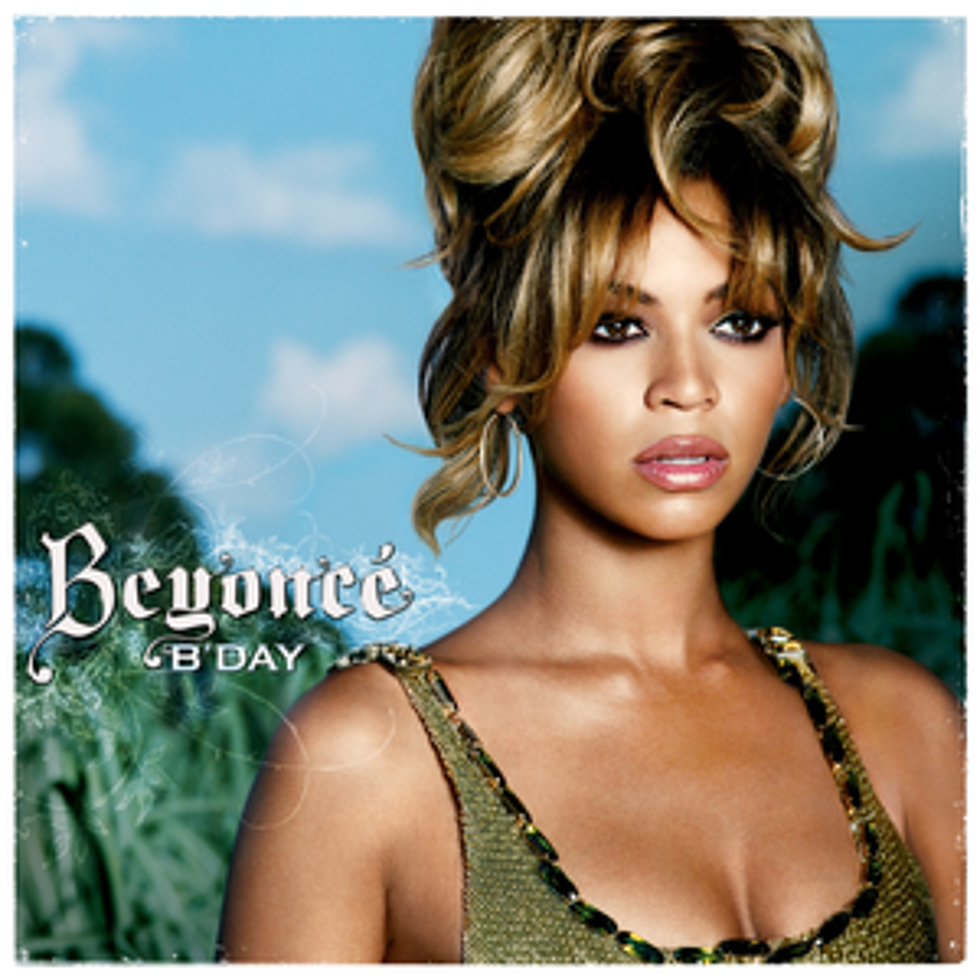 Beyonce's 'B'Day': an Album of Evolution and Liberation
Columbia
Music history is full of popular groups whose lead singer went on to attempt a solo career--and the results have been hit-or-miss. For every Michael Jackson or Diana Ross, there's a Ralph Tresvant or a Dawn Robinson; there are no guarantees for a burgeoning solo act who emerges out of a popular collective. With the passage of time, it seems the number of R&B groups have dwindled, making it harder than ever to gain fame within that setting and be able to parlay it into an even more celebrated and decorated career as a soloist. However, Beyonce Giselle Knowles was one of the most recent examples of a star who was able to forge such a successful second act that it makes everything that happened before seem like a preamble.
Beyonce, of course, began her career as lead singer of record-setting girl group Destiny's Child. They would release four blockbuster albums between 1998 and 2004, and Beyonce began asserting herself as a solo star and brand in 2002, appearing in the Mike Myers comedy Austin Powers in Goldmember would help usher in Beyonce as a solo talent, with her song, "Work It Out" serving as the lead single from the film's soundtrack. She also appeared on then-boyfriend Jay Z's 2002 single, "'03 Bonnie & Clyde," which would get the rumor mill abuzz; all setting the stage for the release of Dangerously In Love, her 2003 solo debut, which would eventually sell over 11 million copies, worldwide. The album's lead single, the Jay Z-featured "Crazy In Love," would claim the No. 1 spot on the Hot 100--becoming Beyonce's first chart-topper as solo artist within the U.S.
Dangerously in Love would be a massive release, with hit singles like "Baby Boy," "Me, Myself and I," and "Naughty Girl" all receiving major airplay on radio and video countdowns. The album was also lauded by critics, earning rave reviews by various media outlets and netting Beyonce wins in five different categories at the 46th annual Grammy Awards, including Best Contemporary R&B Album, Best R&B Song, and Best Female R&B Vocal Performance, tying the record for most Grammy awards won by a female artist in a single night at the time. By the end of 2004, there was no question that Beyonce was a musical force to be reckoned with and a global star of the highest order. Always sitting somewhere between sweet and edgy, Beyonce would blur the lines even further on her highly anticipated sophomore album.
Recorded after filming 2006s Dreamgirls, Beyonce would draw inspiration from Deena, her character in the film; a singer who would break out of a popular girl group. B'Day, a title inspired by Beyonce's own birthday, would also be the first to see her take full control of the direction of the album, opting to handpick her own producers and collaborators without the help of her father and then-manager, Mathew Knowles. Beyonce's relationship with Jay Z would also influence the making of B'Day, with her employing Hov's tactic of creating a spirit of competition among producers contributing to the album by placing them in separate rooms and dividing her attention between whoever was creating the more enticing soundscapes.
"[Beyoncé] had multiple producers in Sony Studios," Makeba Riddick, the songwriter behind "Deja Vu" and other material on B'Day, told MTV News. "She booked out the whole studio and she had the biggest and best producers in there. She would have us in one room, we would start collaborating with one producer, then she would go and start something else with another producer. We would bounce around to the different rooms and work with the different producers. It was definitely a factory type of process." That creative process would result in some of the more bombastic work of Beyonce's career up to that point.
Released on September 3rd, her 25th birthday, B'Day was a monumental moment for music fans worldwide and would elevate Beyonce from princess-in-waiting to a full-fledged queen in the musical landscape.
"Deja Vu," the album's lead single, which also doubles as its opening salvo would be a smash record in its own right, peaked at No. 4 on the Hot 100. Produced by Darkchild and Beyonce, the song has a vintage throwback feel with its bassline and festive horns, which Bey glides across and in between while professing her infatuation with her lover. The party continues with "Get Me Bodied," a Swizz Beatz produced offering that finds Beyonce sashaying across the dancefloor and grinding up against a lucky fellow while encouraging fellow party people to do the same.
Beyonce gets her flex on "Upgrade U," a boisterous number that features bars by Jay Z, and is one of the more satisfying tunes on B'Day. "I hear you be the block, but I'm the lights that keep the streets on/Notice you the type, that like to keep them on a leash though," Beyonce coyly teases following Hov's braggodocious opening remarks. Lyrics like "I can do for you, what Martin did for the people/Ran by the men, but the women keep the tempo/It's very seldom, that you're blessed to find your equal/Still play my part and let you take the lead role, believe me," speaks to the dichotomy between her and Hov in their relationship and is an example of stellar songwriting.
While B'Day isn't a fully showcase of her yet-to-emerge alter ego Sasha Fierce, Beyonce unleashes the spirit of Sasha on "Ring The Alarm, a cut that sees her conflicted about whether she should drop her philandering boyfriend and risk the trappings of her possessions and lifestyle or keep her rightful position as the Queen of her King's palace. Barking "Tell me how should I feel/When I know what I know/And my female intuition telling me you a dog/People told me bout the flames/I couldn't see through the smoke/When I need answers, accusations, what you mean you gone choke?," her suspicions are voiced loud and clear, but she ultimately decides to go against her better judgement, concluding "I been through this too long/But I'll be damned if I see another chick on your arm!"
The Neptunes also provide to the high-powered affair with two contributions of their own, "Kitty Kat" and "Green Light," both of which are breezy displays of minimalism and are among the more light-hearted ditties on B'Day, although the later contains the festive live-instrumentation implemented on her more single-driven fare. Listeners get another glimpse at Sasha Fierce on "Freakum Dress," an ode to women that have no problem donning that thirst-inducing dress to remind their man of the "gifts" they keep under wraps for them. Featuring production by Rich Harrison, "Freakum Dress" is sonically reminiscent of "Crazy In Love," but is far from a duplicate or clone and stands alone on its own merit as an display of woman-empowerment. The bulk of B'Day is composed of frenetic, sweat-inducing party starters, but its most endearing moment comes on its most subdued. Produced by Stargate and written by Ne-Yo, "Irreplaceable" is centered around Beyonce threatening to give an arrogant lover the boot and reminding him that plenty of men would jump at the chance to have what he's in jeopardy of losing.
Crooning "To the left, to the left/Everything you own in the box to the left/In the closet that's my stuff/Yes, if I bought it, please don't touch," the Houston native is matter-of-factly about informing her mate of the consequences to his actions. Chanting "You must not know about me, you must not know about me," Beyonce makes it clear that her mate's spot can be filled at the drop of a dime if need be and that no sleep will be lost over the decision. The third single released from B'Day, "Irreplaceable would be its most successful, peaking at No. 1 on the Hot 100, where it would remain for ten consecutive weeks, giving Beyonce her fourth chart-topping hit of her career. It would also be the best selling single of 2007 and was nominated for the Record of the Year award at the 50th Grammy Awards, making it one of the most successful solo songs that Beyonce has recorded to date.
B'Day would be the subject of much critical acclaim from most media outlets, such as Rolling Stone, which noted "On the most arresting moments of her second solo album —including the anguished, Sixties-tinged ballad "Resentment" and the punk-R&B single "Ring the Alarm" —Beyonce sings with enough frantic, quavering intensity to make you believe she really is crazy in love." However, Beyonce's more aggressive fare on B'Day would receive mixed-reactions from some. Take Jon Pareles of the New York Times, who wrote, "For a woman who has everything — million-selling albums, Grammy awards, movie roles, famous boyfriend, fashion line — Beyoncé, who turns 25 today, sounds strangely desperate on her second solo album, B'Day," before concluding "With an album as premeditated and as nutty as "B'Day," Beyoncé now qualifies as a full-fledged diva."
Reviews aside, B'Day would prove the strength of Beyonce's star power, selling 541,000 copies in its first week of release at a time when the music industry was suffering a steep decline in sales. The album would eventually be certified triple platinum and has sold over 8 million copies worldwide to date and would net Beyonce a Grammy award for Best Contemporary R&B Album. While not as successful and as well-rounded as Dangerously in Love, B'Day served as the first step in Beyonce's evolution into womanhood and saw her shed her innocence in exchange for the naughtier, grown and sexy persona she would adopt on subsequent releases and throughout her career. While its nearly impossible to declare which album by Beyonce is her best, B'Day is by far her most liberating body of work and its impact still echoes ten years later.
20 Hilarious R&B Tweets Guaranteed to Keep You Entertained