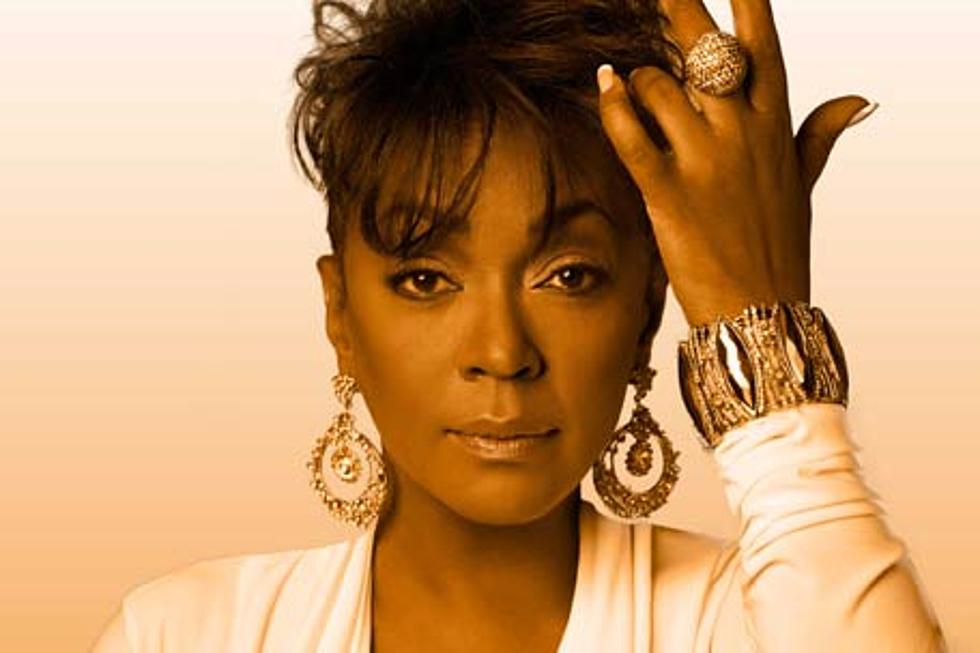 Anita Baker Explains 'Only Forever' Album Inspiration, Tyrese-Assisted Single 'Lately'
EMI
Anita Baker can't sit still. The Ohio-born, Michigan-raised soul singer has about as much energy as a toddler on a sugar high as she speaks about Only Forever, her first album in seven years. She's excited for the release, and rightfully so. The woman is on a mission to merge classic sounds with technological advancements.
"I just had this concept of walking into a digital universe with an analog heart [on Only Forever]," Baker tells The BoomBox. "So we're kind of marrying the two. I started cutting analog down in Nashville, and once I knew what we were gonna do, we bounced it over to the digital format so that the 21st century producers like Harvey Mason, Jr., could manipulate it.
"I was just very focused on getting some analog energy in there somewhere. So it's a lovely bridge that I'm trying to build tech-wise as well as musically."
The first single off the effort, titled "Lately," is actually a take on crooner Tyrese's 1999 track of the same name. Baker, who speaks fondly of the former model-turned-singer and actor, referring to him as one of her "handful of friends" and "second-born Capricorn son," chose to recreate his original song in part because she wants him to continue sharing his gift. He's set to appear on one of two versions of the track.
"['Lately' is] one of the first songs we cut, analog, in Nashville," she reveals. "I brought in a live rhythm section. I brought it to L.A., and I called [Tyrese] into the studio and I played it for him; he had no idea. And he lost it, of course. He was like, 'I know who has got to produce this!' I'm like, 'I already know, I got Harvey Mason, Jr., on tap.'"
Another song that will be featured on Only Forever is the title track, produced by world-renowned musician Nathan East, whose performed as part of the jazz quartet Fourplay and written for the likes of Stevie Wonder and Eric Clapton, among others.
"I realized I've never cut a record without him on bass, ever," the 54-year-old mother of two shares. "And I said, 'You know what, man, it's time for you.' When he comes into a project, he's so present that he is giving a lot of energy that's almost like producing. So I said, 'You're gonna produce on this record.'"
Upon hearing "Only Forever," Baker changed the direction of her forthcoming eighth studio album, which was originally titled 21st Century Love.
"Three months ago [East] sent me an email, which, if not for my young contemporaries I wouldn't have email, and he said, 'You know, this has been brewing for a long time,'" she states. "I got the file; it was 'Only Forever.' And when I heard it I was like, that's our title cut, forget the concept. It was just organic, it was just real."
The legendary songstress, known for delivering heartfelt lyrics on chart-topping songs like "Giving You the Best That I Got" and "Sweet Love," which resonate with lovebirds and romantics worldwide, aims to do much of the same with the title track.
"The premise of the song is only everything, only all the time," Baker explains. "In a push-button, instantly gratified, attention span of minutia, only always. Right? Whatever that means to you. But the sentiment is lovely and it's applicable to everybody."
Only Forever debuts Oct. 23.
Listen to Anita Baker's "Lately," Inspired by Tyrese


See 10 Outrageous Hip-Hop & R&B Weddings
%VIRTUAL-MultiGallery-158834|160769|159709%