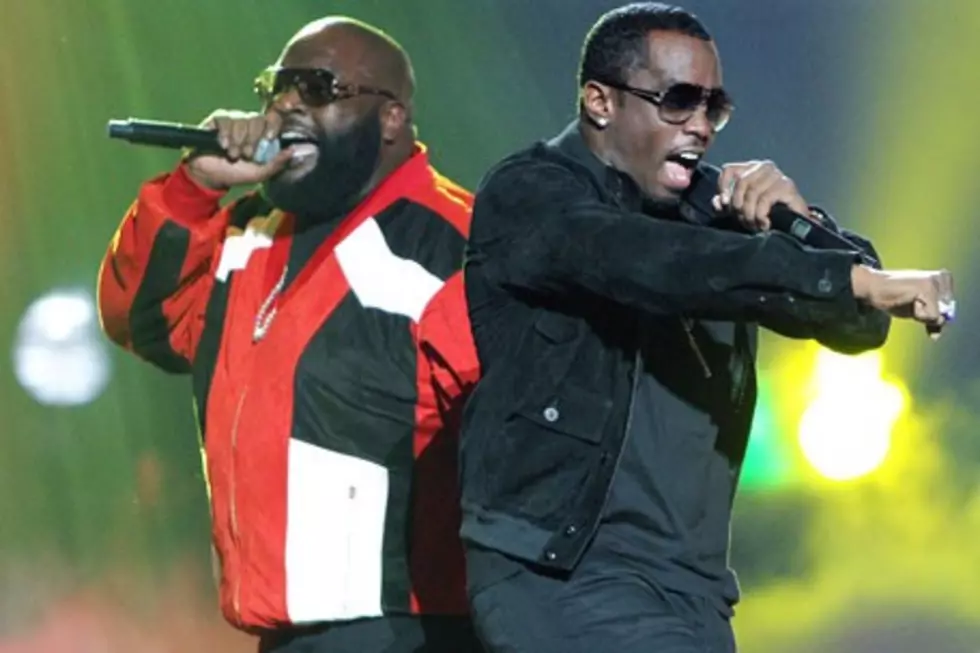 Rick Ross, Diddy and MC Hammer Kick Off 2010 BET Hip-Hop Awards
Taylor Hill, Getty Images
Taylor Hill, Getty Images
The 2010 BET Hip-Hop Awards kicked off on quite the high note on Saturday, October 2 in Atlanta as Rick Ross, DJ Khaled, and Diddy opened with 'B.M.F.,' one of the year's biggest hits. To the surprise of those in the audience Rick Ross' set then segued into an unexpected performance from MC Hammer, who danced frantically with a group of dancers as he performed '2 Legit 2 Quit.'
Nicki Minaj and Jay-Z, who was not in attendance at the awards, proved to be the night's biggest winners as they took home multiple awards. Nicki Minaj made sure to thank her "Barbies" as she accepted the award for "Favorite By Fans."
The 2010 BET Hip-Hop Awards welcomed a number of newcomer's including Alabama's own Yelawolf who performed alongside Big Boi for their hit song 'You Ain't No DJ.'
"I feel overwhelmed, you know, coming out with Big Boi from OutKast and doing our record. I never thought it would lead to here, but I'm taking it in. I'm happy and I'm honored to be a part of it," Yelawolf explained to The BoomBox.
The Hip-Hop Awards cypher's proved yet again to be one of the highlights of the show with a number of artists taking part in this Hip-Hop Awards staple. Kanye West gave folks a taste of G.O.O.D. Music with a cypher that featured verses from himself, Common, Big Sean, Pusha T, and Cyhi Da Prynce. Ice Cube and Rev. Run kept it all in the family with a cypher that consisted of performances from Diggy Simmons, JoJo Simmons, OMG, and Doughboy.
BET Hip-Hop Awards Photos 2010
2010's BET Hip-Hop Awards took place on Oct. 2, 2010 in Atlanta.
See All Red Carpet and Award Show Photos >>
Taylor Hill, Getty Images
Rock The Bells 2010
Other cypher participants included YelaWolf, Raekwon, Diamond, Fonzworth Bentley, Wiz Khalifa, Free Style Friday champ Bones Brigante, and more. "My favorite cypher was the one that Juelz, Jada, and Fab did cause that was real New York heavy and they went crazy in that," said Brigante in regards to past cyphers. "I like what Eminem did last year, but hopefully I can bring something else to that real rap."
Towards the end of the show veterans Salt-N-Pepa along with Spinderella were honored with the prestigious "I Am Hip-Hop" award. "That was the first song I ever learned was 'Push It.' When I was a little baby my mom said I used to be in the car seat just 'Ah, push it.' All the time," R&B singer Lloyd told The BoomBox.
Fresh off a performance for President Barack Obama last week in Washington D.C., Atlanta rapper B.o.B brought the crowd to their feet with a moving performance of "Don't Let Me Fall." Other performer's included Waka Flocka, Soulja Boy, J. Cole, and Dipset.
This year's BET Hip-Hop Awards concluded with Cali Swag District performing their dance hit "Teach Me How To Dougie." Following their performance Cali Swag went on to introduce Digital Underground who then performed their classics "Humpty Dance" and "I Get Around" featuring the late Tupac.
The 2010 BET Hip Hop Awards will air on BET on October 12 at 8 PM.